Home » Dalmatia, Guides, Island Hvar
Hvar travel guide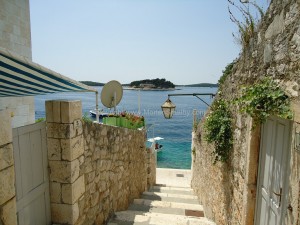 One of the places which we love to visit is the island of Hvar and especially the town Hvar which is on our opinion among the most beautiful towns in Croatia. Obviously we are not the only ones who fancy the town of Hvar. During the last years the town of Hvar has been recommended by several world famous magazines as a top destination to visit, some have even called it the St Tropez of Croatia.
Below you find our travel tips for the town of Hvar as well as some great photos from the town. Information about visiting other cities on the island of Hvar like Stari grad or Jelsa will be described in separate articles. Feel free to leave a comment below if you have any question regarding visiting the city of Hvar.
Getting to Hvar
Getting to the island of Hvar is possible with either ferry or catamaran: here we have described how to use the various travel option to get to the town of Hvar

Catamaran Split to town Hvar:  During summer, there are 4 daily scheduled catamarans from Split to Hvar town; operated by the companies Jadrolinija and Krilo, additionally there is an excursion catamaran from split tours. Travel time with the catamaran is 55 minutes. The scheduled catamaran makes it a bit hard to do a daytrip to Hvar, more information about sailing schedule you can find here.
Car Ferry from Split to Stari grad: If you plan to bring a car and are coming from Split or cities further north, the best option to get to Hvar, is to take the car ferry to Stari grad, from ferry port in Stari grad there is a 15-20 minute drive to Hvar town. During summer months there are 6-8 daily departures in each direction. Ferries are operated by the companies Jadrolinija and Blueline. If you are travelling by foot, you have a bus to Hvar town, waiting by the ferry port upon arrival of the ferry.
Car ferry from Drvenik to Sucuraj; if you are travelling to Hvar with a car from the south, the best option is to take the ferry from Drvenik to Sucuraj. During summer there are around 10 daily departures between the cities and duration of ferry trip is about 35 minutes. From Sucuraj there is about 75 km to Hvar town. If you travel by foot, you have bus to Hvar town in connection with some of the ferry arrivals. You can see ferry schedule here.
NOTE: as for all other local ferries in Croatia, it is NOT possible to either reserve or pre-book tickets, so you will have to show up at the ferry port in due time to buy a ticket. More information about travelling to Hvar town you can find here.
To do and see in Hvar:
The town of Hvar is itself, in my opinion, the most important attraction, but there is of course some special highlight like e.g. the cathedral or the theatre which you will find mentioned in all guide books. From my many tours to Hvar, I have my own personal favourites list of to dos.
As mentioned above, Hvar town in general is simply incredibly nice. Every time I revisit it, I manage to find "new" interesting small streets in the old town. On the main square (Pjaca) you have old town parts on both sites. Which one is the most interesting? Well I would say both and if you decide to explore, make sure to bring water, as you will have to climb looooooots of stairs J
My favourite sight is the fortress Spanjola / Fortica. The fortress is situated 90 meters above the city, you can walk from the old town which takes about 40 minutes (follow the signs from the main square); remember to bring water for the climb on hot summer days. (If you don't like walking you can also drive to the fortress.) The award for the 40 minutes climb is… (click on the photo below). Do I need to say more?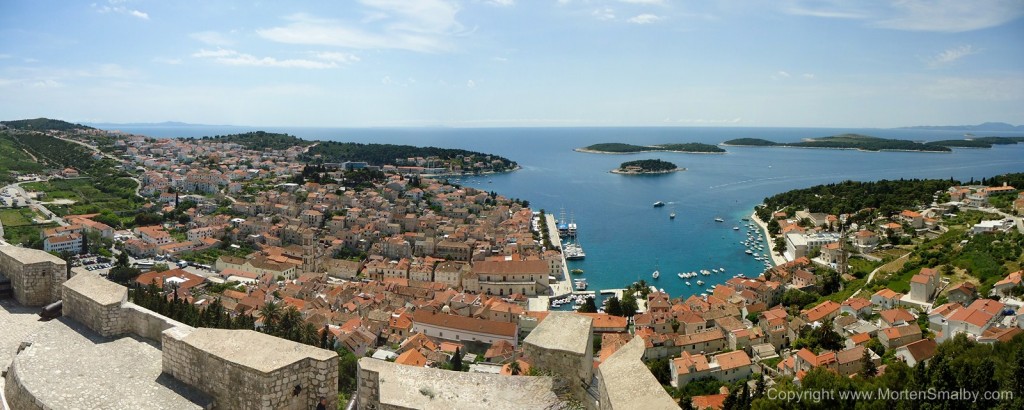 The Promenade, from the main square you have a sea side promenade in two directions. If you have time, walk as far as you feel like walking in both directions – you will find lots of interesting spots on the way.
Other things I can recommend to do or see close to Hvar:
Pakleni islands, if you look towards west from where the catamaran departures (see map below) you can see the Pakleni islands group. The islands are great to visit for a relaxing day on the beach, but you can also go there to eat or to party in the evening. HOW to get to Pakleni islands: at the end of the main square, you have several tour boats lined up, they sail to various parts of the Pakleni islands at prices ranging from 30-60 kuna per person, depending on which tour you pick. Alternatively, you can rent a boat and sail to the island yourselves.
Fortress Napoleon, (yes, it was build by the emperor Napoleon) – If the view from fortress Spanjola didn't impress you, you might want to visit the second fortress above Hvar, the fortress Napoleon. The fortress is situated 241 meters above sea level, no need to say that the view from here is spectacular! You would need a car or taxi to get to the fortress.
Other things we have done during our visits to Hvar
Weekend in the olive fields, if you visit Hvar in October you can for sure find an olive grower in need of some assistance. (salary is paid in olive oil)
Trip to the highest peak of the island – Sveti Nikola (626 meters above the sea level), going here on your own is doable but not recommendable from my point of view. (See photos from St. Nikola in gallery below).
Visit to some of the small villages in the area of Hvar
If you visit at the end of June or beginning of July, you should be on the island in the period when the lavender blooma, the intensive purple blue colour is amazing! Go to the villages like Brusje or Velo Grablje and have a look from there.
Accommodation Hvar
The accommodation offer in Hvar ranges from fairly cheep hostels to luxury hotels. The main form of accommodation is, as elsewhere in Croatia, private accommodation units. What to recommend? Well as we for the first time went to the island in 2006, we stayed by Jure and Ljubica. Since then we have tried a few other places, but we always keep going back to them. At their place you find hospitality and warmth in the way we have seldom experienced elsewhere. If you stay by them in early spring or in the fall, you most probably could get Jure to take you around on the island, a better and more knowledgeable guide is hard to find. You can see the apartments / rooms of Jure and Ljubica here. The whole range of accommodation units you can find by clicking on the icons here.
Beaches by Hvar
If you are looking to spend a whole day on the beach, my recommendation would be to go to the Pakleni islands where you find numerous nice beaches, including a sandy beach. If you just want to spend a few hours on the beach, you have some smaller beaches on each side of the town; the closest one from the city centre is the one by the Franciscan monastery.
Where to eat in Hvar

In Hvar there are plenty of excellent restaurants, personally we like to eat at restaurant Vartal (see map below) which has great food at a fair price, but basically all the restaurants we have tried have been quite good. If you like to eat with a view, there are plenty of restaurants around the promenade to pick from. Some of the most exclusive restaurants can be found in a small street next to the main square. The best way to find a suitable place to eat is to ask around.
These websites should give a good impression of the restaurants options available in Hvar:
Nightlife Hvar:

Hvar is know to have some pretty good parties during July and August. Depending on where you go, you will find that Hvar is not the cheapest spot to party, at least if you compare it to other party places in Croatia. The classic and most famous places to go out on Hvar:
Carpe diem: quite expensive, but undoubtedly the most famous bar in Hvar – Website
Carpe diem beach bar, situated at the Stipanska bay on the Pakleni islands, taxi boats to the island leave from the sea side promenade – Website
Club Veneranda, hilltop disco situated by some 14th century ruins, from the main square in Hvar walk past the Hotel Adriana and you are almost there.
Hula Hula – pretty cool seaside bar, 15 minutes walk from main square (situated between the hotels Amfora and Podstine)  – Website
Kiva bar, rock music and tequilas is two of the main ingredients at the Kiva bar – Website
Camping around Hvar

There is only one campsite by Hvar and that is the Camp Vira – more information about the campsite you can find here
Note: like everywhere else in Croatia, camping in the wild is prohibited, and the fines are pretty high (up to 400 Euros), so I would not recommend that option. What is normally accepted (by the authorities) is if you can find a private landlord who would let you spend a night or two on his land.
Shopping in Hvar
A shopping guide to Hvar and what to buy on Hvar you can find here.
Parking in Hvar
If you bring your car to the town of Hvar, you will not have much use of it for getting around in town, as basically the whole inner part of the town is car free zone. The only larger parking place can be found next to the bus station which is at the end of the main square (see map below). If you are staying in private accommodation or at a hotel, they should be able to tell you where you can safely leave the car during your stay.
Map of Hvar

Prikaži Hvar Town na većoj karti
Tags: Fortress, Island, Island Hvar, Places to visit