Home » Out of season Weekend trip to Brac
Out of season Weekend trip to Brac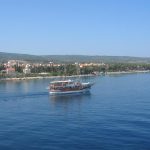 Two weekends ago we took at weenkend trip to the island of Brac, we are living in Split, so the island is of course not new to us, but until now we never managed to see the whole Island, so that was basically our plan for that weekend.
We left Split saturday morning at 9 with the ferry to Supetar, well arrived in Supetar we took the road to the east and made stops in the followin cities, where we manage to take some quite nice pictures
Pictures Spliska, Pictures Postira, Pictures Pućišca, Pictures Sumartin, Pictures Bol
At 15:30 we arrived in Bol where we had desided to spend the night, as i all the other cities it was evident that that tourist season had ended, as more or less everything was closed but after 30 minutes search we managed to find hotel who was willing to rent out 3 rooms. After enjoying a bottle of nice wine on the balcony we went down to center of Bol and found us a nice resturant where we had excellent service and food here we spend the evening before going to bed very tired at 21:00
In the morning we headed for Milna on the western site of the Island, unfortunatly the Bura which was blowning the weekend had arrange for a cloudy weather which made it difficult to take pictures showin how beatiful i actually is, but have a look anyway.
Pictures Lozišča (5 km before Milna) Pictures Milna
After visiting Milna we headed back to Supartar, where we had lunch before taking the ferry back to Split at 15:30, at 17:00 we where back in our Appartment looking at Brac from the balcony, now with some new and very nice impression at our mind.
Tags:
Bol
,
brac
,
ferry
,
Milna
,
our trips
,
Splitska
,
Supetar