Home » Active holidays, Italy, kayak, sport, trips
Vogalonga – Kayak challange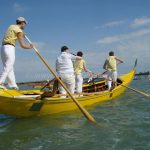 Next weekend we will go to Venice with our Australian friends, Shane and Julie and there kids Aklei and Roklan, to participate in the 34 Vogalonga regatta, for rowing boat and Kayaks.
For me it is going to be a big challenge to finish the 30 km route, as I never sad in a Kayak before, but Shane who is a Kayak expert has been so kind to get a double kayak for me and him, so I have chance to rest if necessary.
We will leave Split Friday at noon and have to reach our Italian camp destination Capalonga Camping/Tourist Village at around 19.00 in the evening, Saturday we will go and have look at the surrounding area and prepare our selves for the race Sunday.
When we are back I will let you know if I managed to finish the race in one peace.
Her you can read about Vogalonga
If like Kayaking maybe you should check Shane and Julie's homepage and see the kayak tours they are doing here in Croatia www.lifejacketadventures.com