Home » Christmas time, Croatia
Will J-DAY come to Croatia?
A few weeks ago I noticed that we could by Tuborg Christmas brew in the shops here in Croatia, so I think I was about time to inform about the tradition connected to this beer in my home country Denmark.
In Denmark we have 2 very important Christmas days, of cause Christmas evening, the second one is the day when Christmas starts the J-DAY!
So what is J-DAY? Here comes the explanation!
In 1981 the famous Danish brewery Tuburg, launched a beer called Tuburg Julebryg (Tuborg Christmas beer) or Sne Plis, (Snow beer), the beer immediately became a great success, every year the hype about the beer increased, so in 1990 Tuborg launched the first J-DAY, (J beeing the first letter in Jul, the Danish word for Christmas) on the second Wednesday in November. On the J-DAY the sale of the Julebryg start in bars all over the country at exactly at 20:59, so you can imagine the croud!
In 1999 Tuborg had to change the J-DAY from Wednesday to Friday simply because of the reason, that to many young people did not show up to school or work, the day after.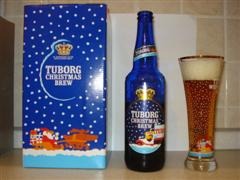 Another interesting think about the Tuburg Julebryg (Christmas brew) since the launch back in 1981 the same commercial has been used in Cinemas' and on TV, so people has a very high association between the Christmas and the Julebryg.
You can see the commercial here, and download a Wallpaper and screensaver which guarantee will bring you into christmas mood.
And when you get really hocked on Julebryg you buy your equipment in the snow shop, what else (-:
Snow equipment for boys
Snow equipment for girls
Anyway the beer actually tasted great, it is a dark beer a little bit stronger then a normal beer, with a very nice taste of Christmas (-:
So everybody in Croatia and other places in the world now you know what J-DAY is!