Cost of travelling to Croatian Islands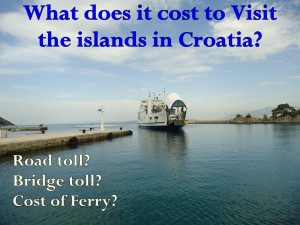 Spending a holiday on an island in Croatia has lots of advantages, but also a few extra costs in relation to travelling; here we have made a list of what it approximately cost to travel to various islands in Croatia.
For each island you can see the cost if you travel with car with four persons as well as the cost for a single person travelling from nearest airport without car. The road tolls stated is from the entering Croatia, which means you will have to add road tolls from your origin point until the Croatian border as well as cost for fuel etc. to have the total costs.
Note: Prices are approximate and only for information purpose.
All prices uses are summer season prices, off season prices is in most cases lower.
All car related prices based on prices for regular vehicle.
Prices stated are one way prices.
Euro / Kuna exchange rate 0.133 (figures rounded)
Border crossing used for calculation – Macelj on the A2 Highway (E59)
Bringing a bicycle with ferry / catamaran usually cost 50% of a person ticket.
Island
Type
Best way to reach
Cost elements
Amount
Lastovo
with car
Car ferry from Split (Via Vela Luka Korcula)
Toll cost, from Croatian border to Split – 229 Kn.
Ferry including 4 passengers (530+ 4*68) – 802 Kn.
1.031 Kn. (€ 135)
Ø per. 253 Kn. (€ 34)
Lastovo
plane
OP1: Travel to Split Airport
OP1: Airport bus to centre of Split – 35 Kn.
Ferry ticket Split to Lastovo –  68 Kn.
OP1: 103 Kn. (€ 14)
Lastovo
plane
OP2: Travel to Dubrovnik Airport
OP2: Airport bus to centre of Dubrovnik – 35 Kn.
Catamaran ticket Dubrovnik to Lastovo –  90 Kn.
OP2: 125 Kn. (€ 18)
Mljet
with car
Car ferry from Prapratno on Peljesac to Sobra on Mljet.
Toll cost, from Croatian border to end of highway – 277 Kn.
Ferry including 4 passengers (140+ 4*30) – 260 Kn.
533 Kn. (€ 71)
Ø per. 133 Kn. (€ 18)
Mljet
plane
Travel to Dubrovnik airport
Airport bus to centre of Dubrovnik – 35 Kn.
Catamaran ticket Dubrovnik to Sobra (G&V) –  60 Kn. (70 kn. Polace)
95 Kn. (€ 13)
Korcula
with car
OP1: Car ferry from Split to Vela Luka
OP1: Toll cost, from Croatian border to Split – 229 Kn.
Ferry including 4 passengers (530+ 4*68) – 802 Kn
OP1: 1.031 Kn. (€ 135)
Ø per. 253 Kn. (€ 34)
Korcula
with car
OP2: Car ferry from Orebic to Domince (3 hours extra driving)
OP2:Toll cost, from Croatian border to end of highway – 277 Kn.
Ferry including 4 passengers (76+ 4*16) – 140 Kn
OP2:  413 Kn. (€ 55)
Ø per. 103 Kn. (€ 14)
Korcula
Plane
OP1: Travel to Dubrovnik airport
OP1: Airport bus to centre of Dubrovnik – 35 Kn.
Catamaran ticket Dubrovnik to Korcula  –  90 Kn
OP1: 125 Kn. (€ 17)
Korcula
Plane
OP2: Travel to Split airport
OP2: Airport bus to centre of Split – 35 Kn.
Catamaran Split to Korcula –  60 Kn.
OP2: 95 Kn. (€ 13)
Brac
with car
Car ferry Split to Supetar
Toll cost, from Croatian border to Split – 229 Kn.
Ferry including 4 passengers (530+ 4*68) – 292 Kn.
521 Kn. (€ 70)
Ø per. 130 Kn. (€ 17)
Brac
Plane
Travel to Split airport
Airport bus to centre of Split – 35 Kn.
Ferry ticket Split to Supetar –  33 Kn. / alternative Catamaran to Bol 55 Kn.
68 Kn. ˙(€ 9)
Hvar
with car
Car ferry Split to Stari Grad
Toll cost, from Croatian border to Split – 229 Kn.
Ferry including 4 passengers (318+ 4*47) – 506 Kn.
735 Kn. (€ 98)
Ø per. 184 Kn. (€ 25)
Hvar
Plane
Travel to Split Airport
Airport bus to centre of Split – 35 Kn.
Catamaran ticket Split to Hvar town –  55 Kn.
90 kn. (€ 12)
Vis
with car
Car ferry Split to Vis
Toll cost, from Croatian border to Split – 229 Kn.
Ferry including 4 passengers (370+ 4*216) – 586 Kn.
815 Kn. (€ 109)
Ø per. 204 Kn. (€ 27)
Vis
Plane
Travel to Split airport
Airport bus to centre of Split – 35 Kn.
Catamaran ticket Split to Vis town (Krilo) –  55 Kn.
90 kn. (€ 12)
Solta
with car
Car ferry Split to Rogaz
Toll cost, from Croatian border to Split – 229 Kn.
Ferry including 4 passengers (530+ 4*68) – 292 Kn.
521 Kn. (€ 70)
Ø per. 130 Kn. (€ 17)
Solta
Plane
Travel to Split Airport
Airport bus to centre of Split – 35 Kn.
Catamaran ticket Split to Rogaz (lnp) –  35 Kn.
70 Kn. ˙(€ 10)
Ciovo
with car
Toll free bridge in Trogir
Toll cost, from Croatian border to Progmet – 216 Kn.
216 Kn. (€ 29)
Ciovo
plane
Travel to Split Airport
Local bus nr. 37  to Trogir, change to Ciovo line
app. 30 Kn. (€ 5)
Pasman
with car
Car ferry Biograd na Moru – Tkon
Toll cost, from Croatian border to Biograd – 173 Kn.
Ferry including 4 passangers (80 + 4*14) – 136 Kn.
305 Kn. (€ 41)
Ø per. 76 Kn. (€ 10)
Pasman
plane
Travel to Zadar Airport
Airport bus to centre of Zadar – 25 Kn.
Bus Zadar to Biograd na Moru – 30 Kn.
Ferry Biograd to Tkon – 14 Kn.
69 Kn. (€ 9)
Ugljan
with car
Car ferry Zadar –  Preko
Toll cost, from Croatian border to Zadar – 169 Kn.
Ferry including 4 passangers (103 + 4*18) – 175 Kn.
344 Kn. (€ 46)
Ø per. 86 Kn. (€ 11.5)
Ugljan
plane
Travel to Zadar Airport
Airport bus to centre of Zadar – 25 Kn.
Ferry Zadar to Preko – 18 Kn.
43 Kn. (€ 6)
Dugi Otok
with car
Car ferry Zadar – Brbinj
Toll cost, from Croatian border to Zadar – 169 Kn.
Ferry including 4 passangers (176 + 4*30) – 296 Kn.
465 Kn. (€ 62)
Ø per. 116 Kn. (€ 16)
Dugi Otok
plane
Travel to Zadar Airport
Airport bus to centre of Zadar – 25 Kn.
Ferry Zadar to Brbinj – 30 Kn.
Alternative Catamaran Zadar – Zali 40 Kn.
55 Kn. (€ 8)
Pag
with car
OP1: Toll free bridge Paski Most
Toll cost, from Croatian border to Maslanica – 166 Kn.
166 Kn. (€ 22)
Pag
with car
OP2: Car ferry Prizna – Zigljen
Toll cost, from Croatian border to Zuta Lokva – 109 Kn.
Ferry including 4 passangers (96 + 4*17) – 164 Kn.
273 Kn. (€ 36)
Ø per. 68 Kn. (€ 9)
Pag
plane
Travel to Zadar Airport
Airport bus to centre of Zadar – 25 Kn.
Bus from Zadar to town Pag – 70 Kn.
95 kn. (€ 13)
Rab
with car
Car ferry Stinica – Rab (Mišnjak)
Toll cost, from Croatian border to Zuta Lokva – 109 Kn.
Ferry including 4 passangers (85 + 4*15) – 145 Kn.
254 Kn. (€ 34)
Ø per. 64 Kn. (€ 9)
Rab
plane
Travel to Rijeka / Krk Airport
Bus from airport to Valbiska  Kn.
Ferry Valbiska to Lopar – 37 Kn.
app. 70 Kn. (€ 10)
Krk
with car
Bridge Krcki Most (Payment only one way)
Toll cost, from Croatian border (Rupa) to Rijeka – 8 Kn.
Toll fee bridge. 35 Kn.
43 Kn. (€ 6)
Ø per. 11 Kn. (€ 1.5)
Krk
plane
Travel to Rijeka / Krk Airport
Local bus to destination on Island
15-40 Kn. (€2-6)
Cres
with car
Car Ferry Valbiska – Merag
Toll cost, from Croatian border (Rupa) to Rijeka – 8 Kn.
Toll fee bridge. 35 Kn.
Ferry including 4 passangers (115 + 4*18) – 177 Kn.
220 Kn. (€ 29)
Ø per. 55 Kn. (€ 7)
Cres
plane
Travel to Rijeka / Krk Airport
Bus from airport to Valbiska  Kn.
Ferry Valbiska to Merag – 18 Kn.
app. 50 Kn. (€ 7)
Losinj
with car
Same as to Island Cres
See Cres
–
Losinj
plane
Island Cres cost +
Bus from Merag to Losinj
app. 50 Kn. (€ 7)