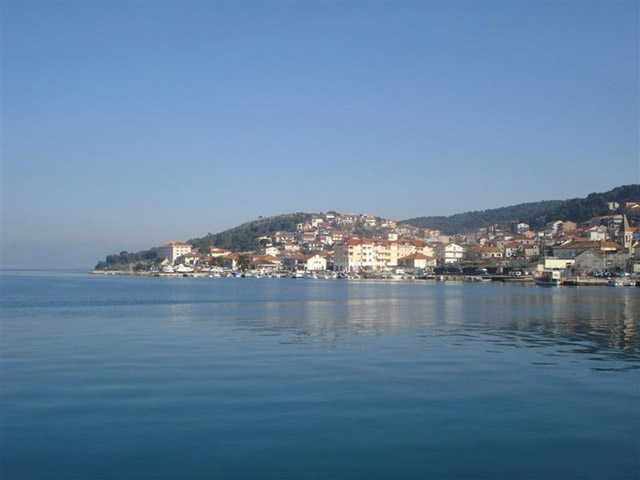 After finishing our visit to Znjan yesterday morning, we went to Ciovo to have a look at some vacation houses for our travel agency. Island Ciovo is located in central Dalmatia, watching over the town of Trogir and kastela gulf. The island is connected to the mainland with a bridge in the UNESCO protected Old Town of Trogir and with a new bridge located about 1km East from the old one.
Town of Trogir spreads onto the island Ciovo, but besides the Trogir part there are also several villages: Arbanija, Žedno, Okrug Gornji, Okrug Donji, Slatine and Mastrinka.
We arrived at Ciovo and we went to Okrug Gornji to have a look at the vacation houses we had been offered for our webpage. The village of Okrug Gornji basically starts where the Trogir part of Island Ciovo ends, and it stretches over 4 km in the bay of Saldun. Okrug Riviera is located only 4 km from the Old Town of Trogir and it is the most popular tourist destination on the island. The accomodation on the island is versatile and comfortable, but the numerous apartments with sea view are the most popular.
Currently Okrug Gornji is preparing the beach for the summer, from the pictures you can see that this is a great place to spend your summer vacation. The most popular beach in Okrug Gornji is the Copacabana Okrug Beach, this 2km long pebble beach is also one of the most beautiful beaches on the island. Information on the boat line to Okrug you can find here.
Kava Beach is the biggest beach in Slatine, located 12km from Trogir. Besides the crystal sea and unspoiled pine forest on the Kava Beach there is also a cafe that serves drinks and fast food. It is good to know that you can take the Bura Line ferry to Slatine.
After finishing our job in Okrug Gornji and before heading back to Split we went to have short look at the villages Okrug Donji in the north and Businci at the southeastern part of the island.
Island Ciovo is an ideal starting point if you wish to explore the region, as the UNESCO-protected towns of Trogir and Split are within arm's reach, as well as the Roman ruins of Salona. You could also take some time for yourself and go on a day trip to the islands Drvenik Mali and Drvenik Veli. The islands can be reached by ferry that departs from Trogir.