Hi Welcome to our Blog
We are Danish expat family who has been living in Split Croatia since the beginning of 2004, where we decided to start a green field company down here. Prior to Croatia, we had been living 9 ½ in German, so we where already used to being "Strangers", which of course made everything easier.
At the beginning of our Croatia adventure, we decide that my wife and the kids should move to Denmark, where the family is living, I should then set up the company and try to get it running. So for 18 month I was living partly 14 days here and 14 days back in Denmark, this was of course a tough time, so in October 2005 we decided to move our family base down here.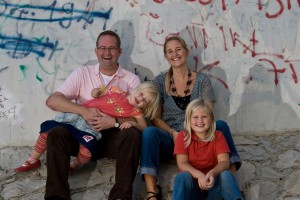 A week after we arrived Caroline and Ida, which at that time where 5 and 2 years old, started in the local kindergarten, the first month was horrible everyday the kids where crying when we brought them to the kindergarten, so we really had some serious doubt about staying here, luckily that was not necessary, almost immediately after we returned from our Christmas holiday in Denmark, the kids started speaking Croatian, so the crying in the morning was replaced by smiles from two happy kids looking forward to seeing their friends in the kindergarten.
NEW: Connect with us on google plus – Morten  and Lene
In 2007 we reach another milestone which required evaluation of our situation, Caroline had reached the age where she had to start in school, so we of course was considering if we should move back so she could start in the school in Denmark, but after asking around about the school system and talking with the teacher in the kindergarten, who said that Caroline's Croatian, was good enough for here to start on a local school, we decided to try it out. Today Caroline is in 6th grade on a local school, Ida is in 3 grade which is a wholeday school from 8am to 4pm, both of them absolutely love there school,  they have great teachers, and a bunch of nice classmates. At home they have to very nice school teacher helping the with the homework once or twice a week.
So although it has been challenging to move down here, we can only say that everything has worked out perfectly for us, we really love the lifestyle here, the long summer, but most of all we love that we here have to possibility to spend lots of time on travelling and exploring, if you browse around on our blog you will know what I mean.
If you have any question about Croatia and living in Croatia feel free to leave a comment here on our website or contact us on info(at)solitum.hr
If you like our page and Croatia, we would be very happy if you would spread the word by sharing on FB or Google plus. Last but not least you can of course also support us by booking your accommodation through our partnerts. who has proberly the largest selction of Apartments and Hotels in Croatia, you can see the about 40.000 apartment (and villas) units here, and here you find all the hotels.
Thanks for your support, and happy greetings from Split
Ida, Caroline, Lene and Morten