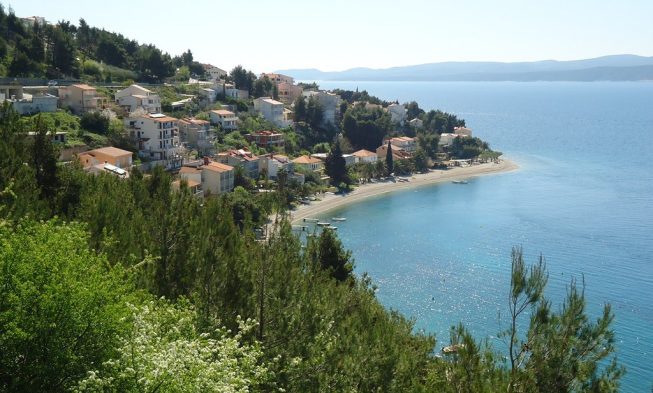 Stanici is small fishermen's village situated about 5 km south of Omis, the original town is situated about 300 meter from the sea. The new part of Stanici – the one on the sea side of the coastal road was built after the coastal road was completed back in the 60's.
The main beaches in Stanici is long pebble beach (on photo), the sea is crystal clear. The beach is suitable for kids. Along the beach there are plenty of pine trees providing shadow during the daytime.
Accommodation in Stanici
More or less all the houses which are situated on the water site (new Stanici) of the coastal road in Stanici are houses with apartments. Due to the fairly steep descent of the hill, most apartments have balconies with beautiful sea view.
There are a few restaurants in Stanici which serve traditional Dalmatian dishes, and pizzas. If you need to shop daily goods the easiest is to go to one of the larger supermarkets in Omis. If you just need a few items, there is a Studenac supermarket by the main road in the next village Ruskamen. In Omis you also have daily activities and events for adults and kids during the summer period.
Getting to Stanici
If you are coming from direction north, just following general travel instruction for Omis continue from Omis direction Makarska. From direction south (Makarska) you just follow the coastal road direction Omis. Bus stop is on the coastal road in Stanici.