Hi Welcome to our Blog
We are Danish expat family who has been living in Split Croatia since the beginning of 2004, where we decided to start a green field company down here. Prior to Croatia, we had been living 9 ½ in German, so we where already used to being "Strangers", which of course made everything easier.
At the beginning of our Croatia adventure, we decide that my wife and the kids should move to Denmark, where the family is living, I should then set up the company and try to get it running. So for 18 month I was living partly 14 days here and 14 days back in Denmark, this was of course a tough time, so in October 2005 we decided to move our family base down here.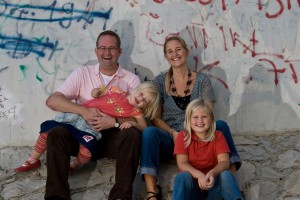 A week after we arrived Caroline and Ida, which at that time where 5 and 2 years old, started in the local kindergarten, the first month was horrible everyday the kids where crying when we brought them to the kindergarten, so we really had some serious doubt about staying here, luckily that was not necessary, almost immediately after we returned from our Christmas holiday in Denmark, the kids started speaking Croatian, so the crying in the morning was replaced by smiles from two happy kids looking forward t
Croatian Public School
In 2007 we reach another milestone which required evaluation of our situation, Caroline had reached the age where she had to start in school, so we of course was considering if we should move back so she could start in the school in Denmark, but after asking around about the school system and talking with the teacher in the kindergarten, who said that Caroline's Croatian, was good enough for here to start on a local school, we decided to try it out.
The first 3 year of school both Caroline and Ida attended a whole day program , meaning going to school from 8am to 4pm, they absolutely loved it, they have great teachers, and a bunch of nice classmates. From 4th to 6 grade, school was also great, at home they had some really nice private tutors helping them with the homework once or twice a week. The last two year (7-8) grade was more problematic, as the teachers at these grades were less interested in helping the students, which was tricky as the workload increased constantly, so they actually both started disliking school a bit.
High School
Do to the issues of the last years of public school, we decided to put the girls in a private high school called Dominis, which turned out just perfect, both girls started loving going to school and really started to love learning again, at Dominis they have some great teachers, and they pay attending to individual learning needs of the students, so here the kids really can learn something if they want.
Finding apartment or house our experience
All the years we have been living in rented apartments, the first years we had some bad experiences with greedy and extremely greedy landlords, but the third apartment and landlord was a perfect match, so we have stayed there since. Meanwhile we also have our own house which we rent out to tourist (Like most people in Dalmatia do 🙂 )
If you are new to Split, or any other tourist city in Croatia, and need to find a place to live you should know / do the following.
Lots of apartments in tourist areas are rented out to tourists during summer, so make sure you don't end up in a flat where you are thrown out around the 1st of June.
The best places to look for apartment for rent (Or sale) is the website Njuskalo another great source is on FB, where there are many groups with rentals from privates, all are on Croatian, so you might need some help to find the best once, for the city you plan to stay in.
Once you find a place you like, make sure to check the parking options. Once you need to sign a contract, you might want to involve a lawyer if the landlord agrees!
If you are looking to buy a flat or a house, you should definitely get professional help (a recommended lawyer preferably), watch out with real estate agents, many would not necessarily act in your best interest. Also make sure to get everything on paper / in a contract, and signed by a Notary public!
Dealing with Public administration
Depending on where you originally come from, you might find the Bureaucracy in Croatia a bit annoying and time consuming, but trust me compared to how it was when i arrived, nowadays it's almost a walk in the park 🙂 . Here is a list of some of the paperwork you might have to deal with.
Staying permit
Working permit
Health insurance (Public)
Car registration
Insurance
Visa
Please note we can not assist or advise you on exactly how to fix the paperwork, as we had external help fixing all the stuff!
Making a living in Croatia
We often get contacted by people considering moving to Croatia, their main concern or question they wish to have answered is related to work. I usually reply them the following:
Finding a job here is not easy, as the unemployment is quite high, the exception if you have particular skills, e.g. if you work with IT finding a job should be possible. The best option is if you can live here and work remotely for your employer at home.
We have been self employed all the year living here, that has been one big roller coaster, for many years we could hardly earn enough to put butter on the bread, but meanwhile we have an IT company with about 20 employees our main product we developed is a platform for bus tickets and we are currently also working on making a platform for ferry tickets, additionally as we mentioned above we also have a house we rent out to tourist during the summer season.
Our take on living in Croatia
So although it has been challenging to move down here, we can only say that everything has worked out perfectly for us, we really love the lifestyle here, the long summer, but most of all we love that we here have to possibility to spend lots of time on travelling and exploring, if you browse around on our blog you will know what I mean.
If you have any general question about Croatia and living in Croatia feel free to leave a comment here on our website or contact us on info(at)solitum.hr
Thanks for your support, and happy greetings from Split
Ida, Caroline, Lene and Morten