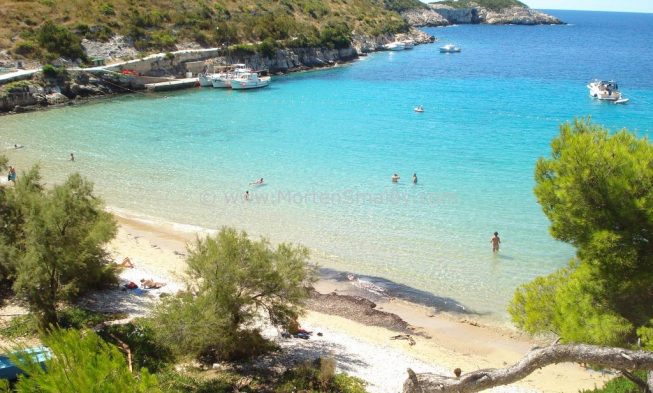 Biševo Island, Blue cave on Island Bisevo
As I mentioned in our travel story from Vis, one day of our Holiday was spend on a visit to the Island of Biševo, which is a small island situated 4 nautical miles SW of Komiža.
Our visit to Vis was not only for pleasure, my friend Shane, from Lifejacketadventures, had convinced me to help him bringing his kayaks, from Biševo back to Komiža, where he normally stores them when he is not on a trip – so I actually had to work!!
So Tuesday morning at 7.30 we met in Komiža with Shane, his family, and a Swedish girl – Johanna, who also was going to help with the kayaks. From here we took a fishing boat (taxi boat – 25 kuna) which was loaded with goods, tourist, the skipper and his bodies. The sailing time to the first drop of point at the east site of Biševo was around 40 minutes, as we had to go to a bay on the west site of the island we got an extra 20 minutes sailing trip.
Well arrived at the Island, we went to visit some friend of Shane's, Lile and Davor who has a small house 50 meters from the beach, Lily and Davor are some very interesting people, they are actually from Zagreb, but spend 6 month's a every year on the Island, where they among other rent out small cottages and have a environmental project running called "Mali Zeleni I Biševo" (the little green at Biševo).
The morning we spend with swimming in the nice bay, where Lili and Davor last year removed around 20 tons of garbage!! At noon we went to next bay Porat to have lunch, as you can see on the picture here, we also had a nice place to swim.
As 3 PM it was time for the hard job, Shane, Johanna and I prepared our selves for the kayak trip back to Komiža, I must say I was bit nervous to back in a kayak again, as the last time was (and also first time) was at Vogalonga 2008, but as we first started paddling I forgot about that.
The first stop on our Kayak trip was Modra Špilja(The blue cave) as you can see the cave does not look like much from the outside, and when you get in there in a 6 meter long kayak without a flashlight it is a bit scary, but very beautiful.
After the blue cava we started our crossing direction Komiža, the weather was very nice so we had no problem with the waves. At about7 PM we reached Komiža I was very tired, but glad that I took the trip, as it is not everyday you get the chance to sit in kayak 20 NM from the mainland.
A few thinks about Biševo
The Main attraction – Modra Špilja (The blue cave) – can be visit by organized trips (Price 100-140 Kuna) or you can take fisher boat as we did.
Biševo has some very nice Sand beaches – the fisher boat from Komiža would e.g. take you to Porat in the morning and return in the afternoon around 4 PM.
Only 7 people live the whole year on Biševo.
Rainwater is the main water supply on the Island
The wine from the Island should be great.