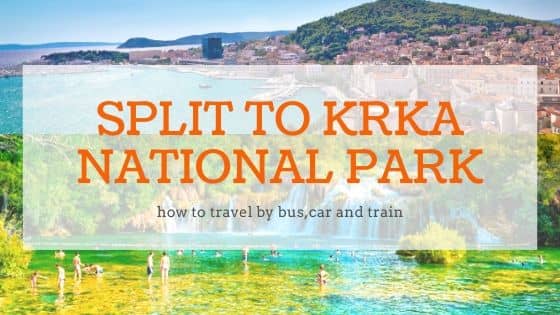 Split – Krka National Park
Croatia is well known for having amazing nature and if we consider the fact that Croatia is a relatively small country when compared to other European countries, it would be fair to say that the number of national parks in Croatia is certainly something to be proud of. Apart from worldwide popular Plitvice Lakes, tourists are also very fond of Krka Waterfalls. The best way to visit the park is by doing a day trip from Split.
Split to Krka by bus
Bus connections between Split and Krka National Park is well developed as there are up to 17 daily departures from Split Bus Station to Krka and vice versa. Note that the number of departures is more frequent during the summer season, whereas this number is much less the rest of the year. Travel time is usually between 1.10h and 1.35h, depending on the traffic and hour of the departure.
The prices for a one way adult ticket usually range between €9 and €14, however, buying a ticket in advance increases chances of getting a cheaper ticket.
NOTE: Prices are expressed in euros but the official currency in Croatia is Croatian kuna (€1 ≈ 7.4kn)
Buses from Split depart from Split Bus Station which is located near the city centre (next to the ferry port and train station)
Buses from Krka National Park depart from Skradin, a small town located approximately 250 meters from the Krka National Park ticket office and information center.
Buses to and from Krka stop only at the bus stops specified in the boarding info and on your bus ticket. Make sure to be at the bus stop/station at least 15 minutes before the departure time, especially during peak season.
Check more details about the route and purchase your bus ticket in the table below:
Split to Krka by car
There are 5 official entrances to Krka National Park, but the two most popular among the visitors would be Lozovac and Skradin entrances. Other entrances are located at Roski slap, Burnum/Puljane, Kistanje/Krka Monastery.
ROUTE 1 (to Lozovac): To reach the Lozovac entrance from Split, you will first need to join the A1 highway at highway toll in Dugopolje (20 km from Split) and then continue following A1 / E65 / E71 road. It will take you around 40 minutes to reach the highway toll in Šibenik where you will take the exit 22 to get off the highway. Then turn left and follow road D33 to Lozovac for another 10 minutes.
ROUTE 2 (to Skradin): The route to Skradin entrance is partly the same as the one to Lozovac, but instead of exiting at highway toll in Šibenik, you will need to keep following the highway to highway toll in Skradin for another 11 km. Get off the highway at exit 21 towards Skradin and then turn right on road D66 to reach Skradin.
NOTE: Both car routes from Split to Lozovac and Skradin are partly done via highway, which means that you will need to pay a highway fee. The price varies depending on the type of vehicle used, but for a regular car (not over 1,90m and 3500kg) the price from Dugopolje to Šibenik toll would be around 30kn. There's always an option to use state roads, but this is not recommended as the journey will be a lot longer and there could be traffic jams during peak season.
The map below shows detailed instructions on how to get to all five entrances by car, starting from Split Bus Station – Ferry Port.

Split to Krka by train
Unfortunately, there are no train connections between Split and Krka National Park. This also means that you have no option of using a Eurorail or Interrail pass for travelling between Split and Krka.
Renting a car to Krka
Visiting Krka Waterfalls by car is a great option if you prefer exploring the area on your own or if you don't want to depend on fixed bus departures. In case you don't possess your own car while staying in Croatia, there are several car rental offices available in Split centre such as Sixt, Avax and Oryx or you can do it even at Split Airport. However, we recommend booking a car online so you can skip possible queues in rental offices.
Private transfers to Krka
For a carefree experience, an ideal option would be hiring a private transfer from Split to Krka National Park. The advantage of a private transfer is avoiding extra costs such as highway fee, fuel, etc. and it is ideal for families or group of friends. Prices for Split-Krka transfer go from €85 per vehicle.
Day tours to Krka
There are numerous travel agencies in Split which offer day tours from Split to Krka, however, this option is more convenient during summer as there are more options to choose from and day tours are frequent on a daily basis. An approximate price of a day trip from Split to Krka is between 200-250kn and it includes a return trip to Krka and in some cases a guide, entrance ticket has to be paid additionally.
What to see on your way from Split to Krka
If you have extra time, here are some places on the way from Split to Krka that are worth of visit:
Salona Ruins – Ancient town of the Roman Empire located in Solin, 5km from Split.
Klis Fortress – A stunning fortress atop Klis hill overlooking the entire Split area, perfect for excellent panoramic photos. Also famous for being a set for Game of Thrones' fictional town of Meereen.
Trogir Old Town – A Medieval islet town 20km northwest of Split which is also part of 10 UNESCO World Heritage sites in Croatia.
Sibenik Old Town  – Famous for St James Cathedral which is listed as a UNESCO World Heritage site. Interestingly, this is yet another location featured in worldwide popular Game of Thrones series.
FAQs – Split to Krka 
Q: Where can I park my car at Krka National Park?
There are parking lots available at Lozovac and Skradin entrance. The parking lot at Lozovac is free for visitors whereas the parking lot in Skradin costs around 10kn/hour. The parking spaces at other entrances are much more limited and these are more likely to be available during off-peak season.
Q: What would be the best time to visit Krka National Park?
Krka Waterfalls are amazing and worth of visit at any time of year but the best time would probably be in autumn when the mesmerizing autumn colors perfectly match with crystal clear Krka river. And on top of that, at that period there are a lot less visitors and the entrance fee is significantly lower.
Q: Is there some place where I could safely store my luggage?
Although there is no official luggage storage to be found in Krka National Park, visitors can leave their luggage in Skradin in travel agency Active Destination. The agency offers luggage storage service for 20kn/day per item.
Q: I am going to Krka by bus, can I bring my bike?
Bike transport on buses depends exclusively on the bus carrier. During summer season most bus companies will not accept bikes because there simply won't be enough space for it in the luggage compartment. However, off season it is possible to bring a bike if there's space in the bus.
Q: Can I get around the park using any form of transportation?
Visitors can do a boat trip from Skradin to Skradinski Buk waterfall and the transportation by boat is included in the price of the entrance tickets. Here you can check the schedule of boat departures.
Q: Can you swim in Krka National Park?
Yes, swimming is allowed in Krka National Park parts of the year, but only at Skradinski buk and Roski slap waterfalls.
Q: Can I ride my bike in the national park?
Yes, riding bikes is allowed in Krka National Park, however cycling is permitted only on marked bicycle trails, and on local paved roads. Cycling is not permitted on the walking trails.