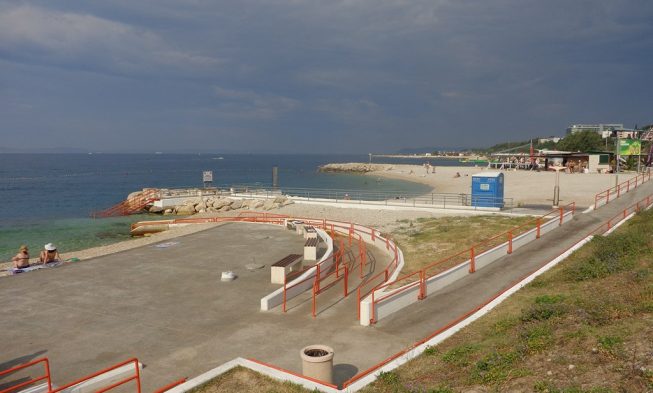 Beach facilities for the disabled in Croatia are not as developed as in some other countries but there is a certain amount of beaches which are adapted to the special needs of the disabled. The beaches awarded with a Blue Flag should be completely equipped with such facilities but, unfortunately, many of them have built facilities for the disabled but that is very often done partly, which means entering the Sea e.g. in a wheelchair is not made as easy as it should be. You can often see access to the sea but without ramps to hold on to, toilettes  and wardrobes often locked with no person authorized to unlock them, no lifeguards or assistants to help the disabled…
Therefore, here we have made a list of beaches in different regions in Croatia which are fully equipped for people with physical disabilities.
Istria
Umag: Hotels Sol Aurora (moving on a ramp in a special wheelchair to enter the water, lifeguards) and Sol Garden Istra (special wheelchair to enter the water)
Rovinj: Orthopaedic Hospital Dr. Horvat (moving on a ramp on a bed, physiotherapists' help, there is an adapted toilette)
Pula:Valkane City Beach (moving on a ramp in a wheelchair)
Primorje – Kvarner
Rijeka: Kostanj Beach for the disabled (lift, ramp, possible lifeguard's help, an adapted toilette)
Crikvenica: City Beach (lift, possible lifeguard's help, an adapted toilette)
Dalmatia
Zadar: Vitrenjak Beach (ramp, wardrobe, toilette, parking area, special wheelchair)
Split: Bene Beach on Marjan Hill (ramp, adapted toilette, special wheelchair)
Split: Znjan beach (ramp, lift, shower, toilette, wardrobe, benches, parking area)
Omis: City Beach
Dubrovnik: Copacabana Beach
Note: The information is taken from the official web site of the Croatian Paraplegic and Tetraplegic Association.If you should have any additional information about beaches with wheelchair access and other facilities for disabled persons, please leave a comment below, so that we can update our list, thanks!