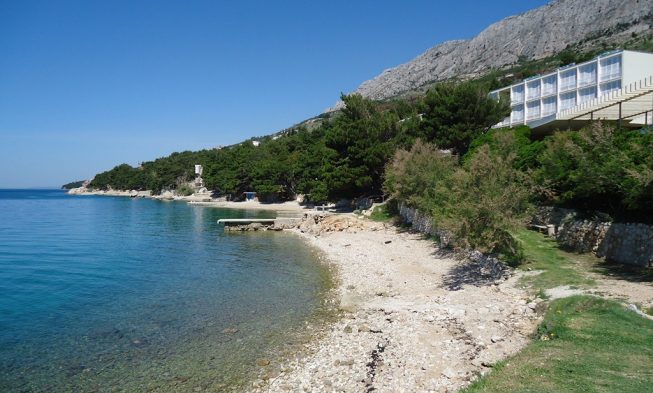 Ruskamen (Lokva Rogoznica) is another small village on the Omis Riviera, the village is situated around 6 km south of Omis.
The centre of Ruskamen is a large 3 star hotel complex "Sagitta" which has close to 450 beds. The resort is situated directly by the sea, the front row apartments are less than 20 meters from the water. At Sagitta village it is also possible to rent small bungalows. At the Sagitta village, a wide range of sport and water sport activities are available.
Next to the Sagitta village, there are several private houses with apartments for rent. By the sea there is a beautiful villa built in citadel style, the villa used to belong to a Nobel family living in the area.
Next to the main road, basically where you enter the holiday village, there is a smaller Studenac supermarket. If you need to do big time shopping, you have more selection in Omis or Makarska.
In Ruskamen there are several restaurants serving traditional Dalmatian food and international dishes, most of the restaurants are within the resort village or close by.
Shortly after Sagitta there is a nice campsite, Autokamp Danjiel, the camp is built on terrain cascading down to a nice beach, the whole campsite is covered with large pine trees which provide shadow troughout the day.
How to get to Ruskamen?

Ruskamen is very easy to find, just follow the coastal road from Omis to Makarska or visa versa, the sings for the Sagitta village you cannot miss. The bus stop is on the main road by the entrance to Sagitta
Photos Ruskamen: