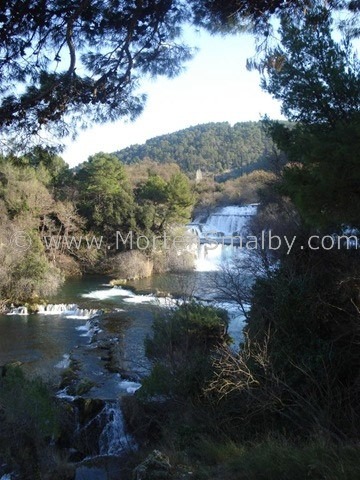 This Sunday, our Australian friends and us went to visit the National park Krka to see the waterfalls and although we have been there several times, it was our first trip during the winter season. Krka is the second most visited national park in Croatia- We went to Skradin, which is the southern entrance to the park. Our plan was actually to have lunch in a winery recommended by our friends  from Split but unfortunately, the place was closed. Don't get discouraged, there are still several places where you can grab some lunch.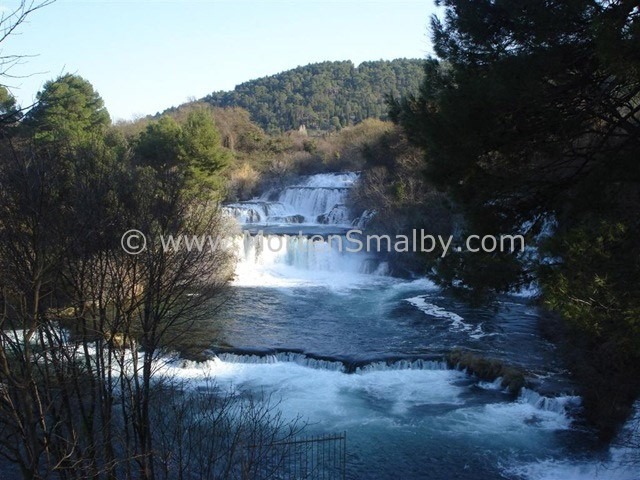 In the summer season, there is a boat from Skradin that goes to the lowest point of waterfalls and at this time of the year, options are by foot or by car. We strolled along the blue bridge, located just outside of Skradin, from where a road leads to the lower end of the waterfalls. At the gate, the young man was so kind to inform us that it was actually much easier to go to a different entrance, to Lozovac that is situated 7 km from Skradin.
In Lozovac, you would usually have to park you car app. 1 km from the waterfalls and take the bus or walk down to the small village inside the park but during winter, you can go by your own car. After paying 30 kn of entrance fee for adults and 20 kn for children (you can check their pricelist here) we did so.
Krka is often overshadowed by Plitvice Lakes National Park but I assure you there is no reason for that. Especially during the winter, Krka NP is easily accessible from the coast, the weather is nice and the boardwalk is almost completely empty so you have the Park for yourself. There is also Ethno village, which in summer works as a museum with blacksmith and as a weavery, and the museum explain a bit of Croatia's history. From the village you can take a nice walk along the beautiful, laid out walking paths. You will be amazed by the waterfalls that pour into crystal clear emerald green lakes. Compared to our last visit this summer, we could clearly see the difference in the amount of water going down the falls, which made everything look much more wild. Check it out yourself!