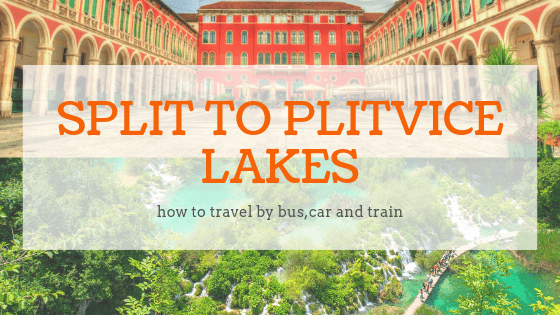 Plitvice Lakes is one of the oldest and most beautiful national parks in Croatia, and you shouldn't visit it unprepared, here you can find everything that you need to know when visiting the park. There are several ways you can get to Plitvice Lakes National Park on your own. Be it by car or bus, your journey will be easier if you prepare on time. So, we made a detailed guide about travelling from Split to Plitvice Lakes National Park. Both Split and Plitvice Lakes are a must-see if you ever find yourself in the lovely little country of Croatia!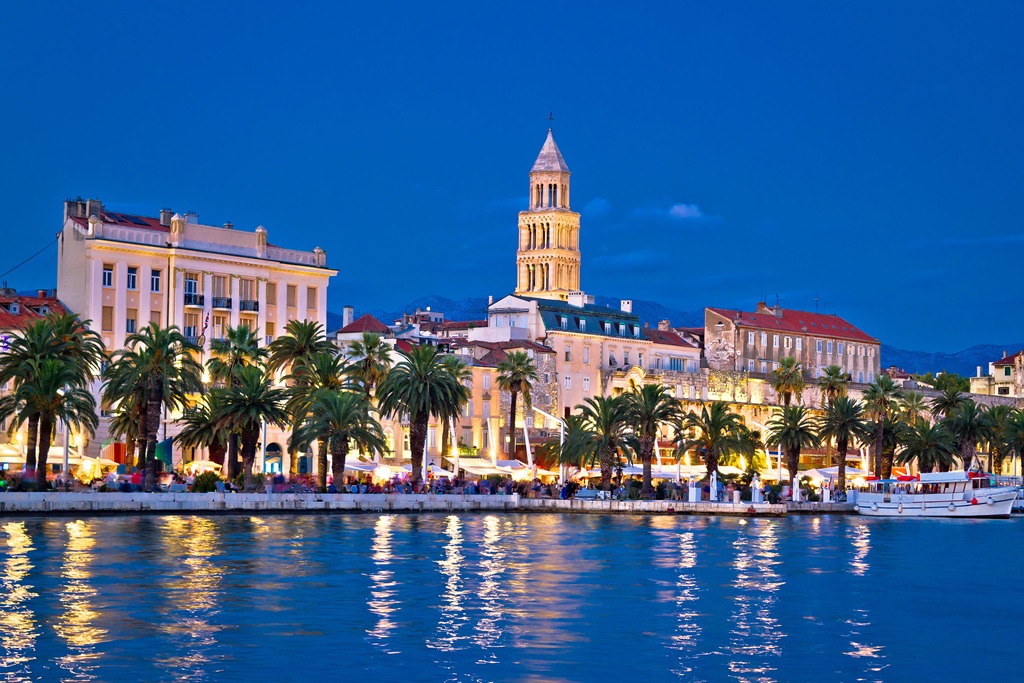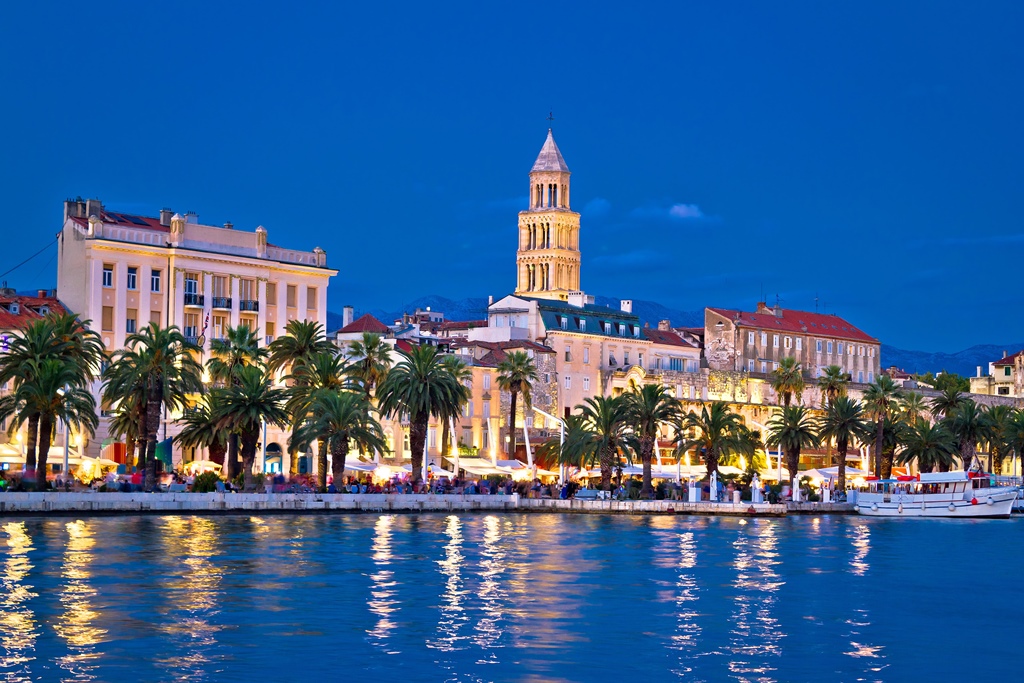 Here are the possible options of travelling between Split and Plitvice Lakes National Park:
Split to Plitvice Lakes by bus
Getting from Split to Plitvice by bus is usually the cheapest option. Depending on the route, travel time ranges from 3 and a half hours to 5 and a half hours.
One-way adult ticket usually costs from around €20 and the best option would be to buy a ticket in advance, since this is one of the busiest routes available.
NOTE: Prices are expressed in euros but the official currency in Croatia is Croatian kuna (€1 ≈ 7.3 – 7.6 kuna).
Buses from Split depart from Split Bus Station which is located near the city centre (next to the ferry port and train station).
NOTE: There are three entrances to the National Park of which two have a bus stop, so make sure that you check where your arrival point is. There are multiple bus stops in front of the entrances, but the one for the buses to and from Split is located on the side of the road heading towards Korenica.
You can check the details and purchase your tickets down below.
Split to Plitvice Lakes by car
Driving is a common way of getting from Split to Plitvice Lakes. Whether you go by your own car or a rental there are three options: via the A1 motorway, via state roads and via the coastal road (magistrala).
Via A1 motorway:
With the construction of Croatia's motorway route, getting around has become easier and faster. Travelling from Split to Plitvice Lakes via motorway takes about 2 and a half hours, depending on the traffic. Enter the A1 motorway in Dugopolje (20 minutes from Split) and you will need to exit at Gornja Ploča. The toll fee for a regular car is around 80 kuna (€11), and here you can check the price list for other types of vehicles. If you are travelling during the peak tourist season check the prices as they can be a bit higher. There are stops along the way, should you need snacks or a toilet break.
Via state roads:
If you wish to avoid using the A1 motorway you can go via the D1 route. Travelling this way would take about 3 hours, depending on the traffic. Since it is less used in comparison to the A1 motorway, this route may be the quicker option during the peak season. If you have time, pay a visit to the cities of Klis and Knin and enjoy the fortresses (more in the section 'What to see on your way to Plitvice Lakes').
Via the coastal road:
If you just can't get enough of the blue Adriatic Sea and little coastal towns, this would be the perfect option for you. Estimated travel time is 4 and a half hours, and in the peak season it could be even longer. Yes, it would take you longer than it normally would via the motorway or the local roads in the countryside, but you won't regret seeing the picturesque landscape along the way.
NOTE: Occasionally, because of the bad weather conditions, such as the infamous bura, some sections of the motorway may be closed so you will need to get off the motorway and use the local roads until you are able to join A1 again. Also, if you are travelling during the peak season be prepared for long queues at Sveti Rok tunnel.
Split to Plitvice Lakes by train
There is no direct train route from Split to Plitvice Lakes. If you're adamant on travelling by train the best option would be getting on a train from Split to Gračac (approximately 100 kuna, or €13.50), and then taking a bus to Korenica (approximately 50 kuna, or €7). From Korenica you can catch a bus to Plitvice Lakes (approximately 20 kuna, or €3.70), however we would not recommend this, as the bus lines for this route are quite infrequent and subject to change.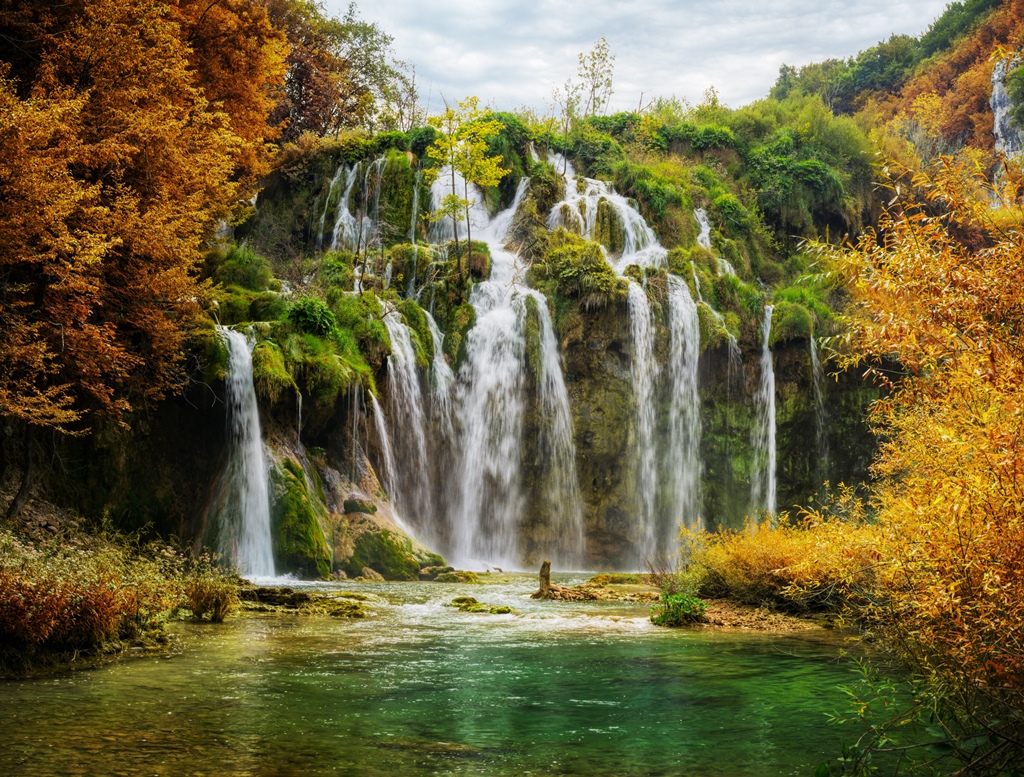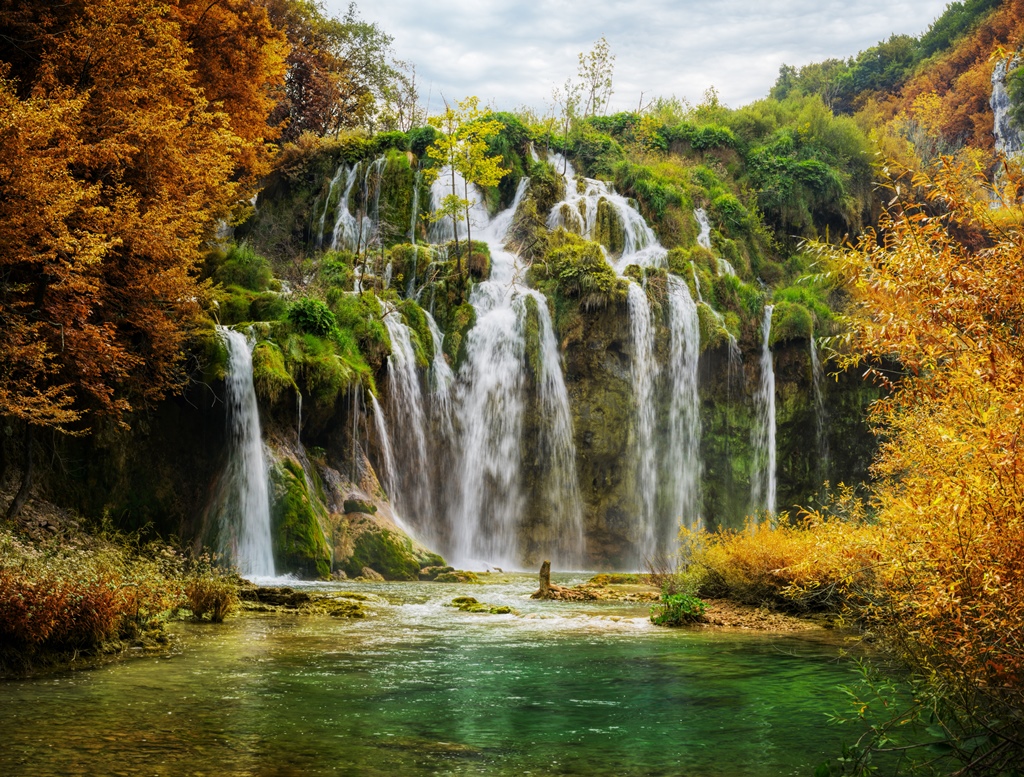 Renting a car to Plitvice Lakes

If you don't have your own car, you could rent one at numerous car rental offices in Split. Car rental is also possible directly at Split Airport. However, if you want to avoid queues and use the most out of your vacation, we recommend booking your car online. You can choose between several pick-up points in Split such as: Split Airport, Split Central Railway Station, Split Port, Split City Office and any hotel within city limits.
Private transfer to Plitvice Lakes

Another option is to hire a private transfer from Split to Plitvice Lakes. This would be an ideal option if you are traveling in a group of 4 to 8 people and if you don't wish to take the bus to visit the national park. An approximate price for a group of that many people would be €250 in one direction. The best part about getting a private transfer is the fact that you can organise your day according to your wishes – you get to choose a pick up point and time plus you don't have to hassle with the overcrowded buses.
Day tours to Plitvice Lakes

If you don't want to bother yourself with schedules, roads and everything else, you could always book a day tour from Split to Plitvice Lakes National Park. They are easy to book online and there are plenty available options to choose from. Most of them include transportation, official English-speaking tour guide and insurance, while some of them also include entry tickets to Plitvice Lakes National Park or lunch.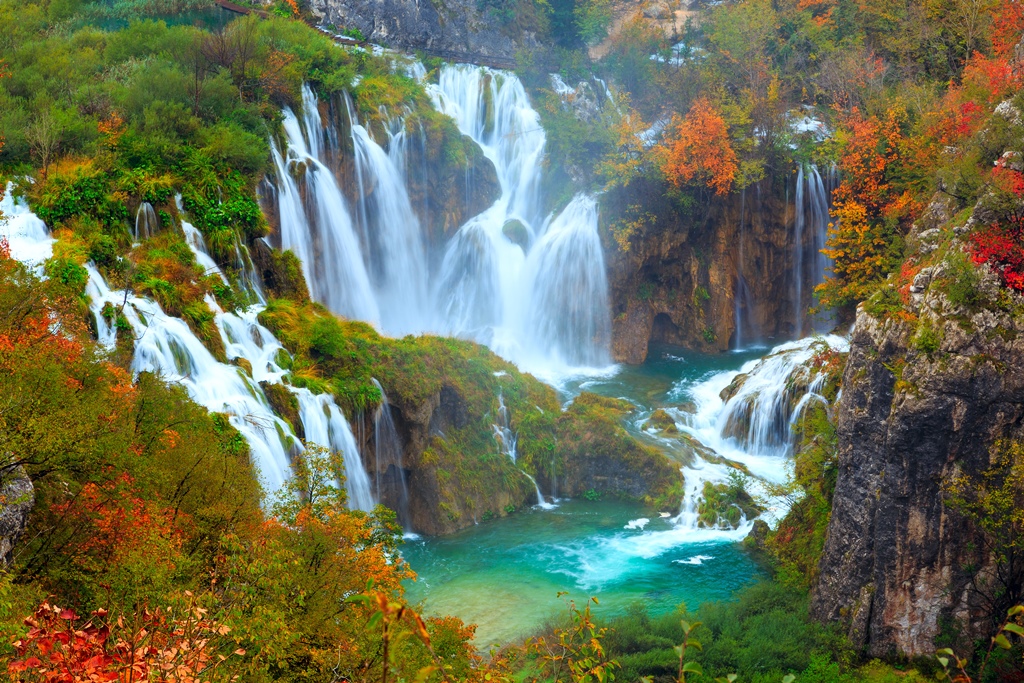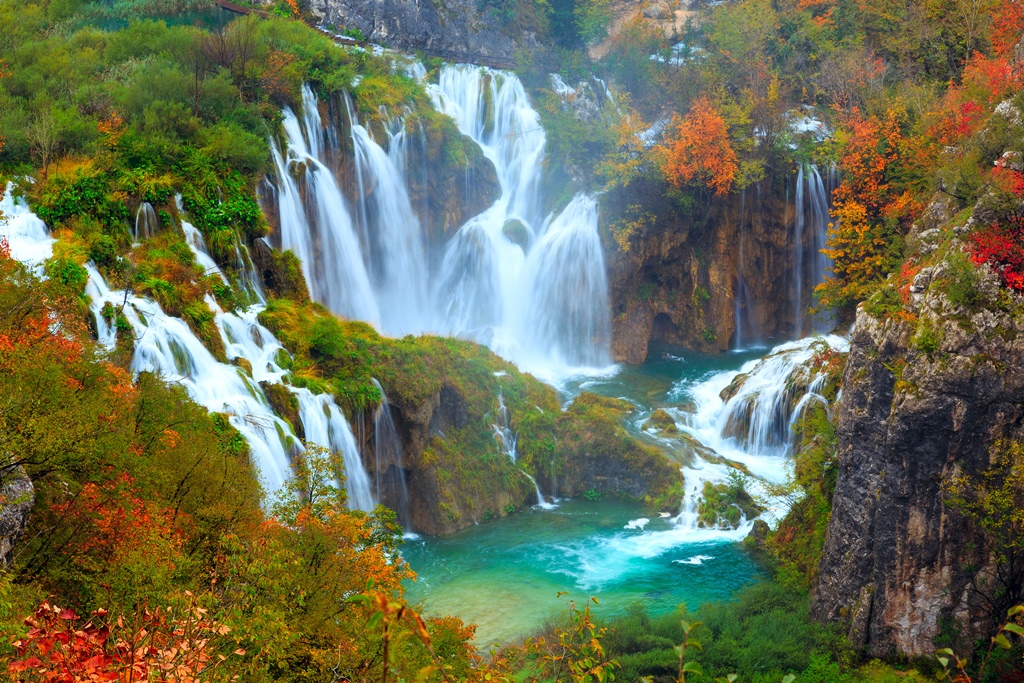 What to see on your way to Plitvice Lakes

Travelling via local roads is a great way to fully experience Croatia, because you'll get the chance to visit a lot of charming cities and sights that you would have missed otherwise. Here are some of our suggestions:
Cities alongside country local roads:
Cities alongside coastal road:
Trogir
Rogoznica
Primošten
Šibenik
Biograd na Moru
FAQ – Split – Plitvice Lakes
Q: How far is Plitvice Lakes National park from Split?
A: The distance between Plitvice Lakes National Park and Split is around 230 kilometres.
Q: Where can I park my car at Plitvice Lakes?
A: There are two car parks at the Plitvice Lakes National Park, one at the Entrance 1 and the other at Entrance 2. Visitor parking is available for all types of vehicles.
Q: What would be the best time to visit Plitvice Lakes National Park?
A: Plitvice Lakes National Park is a great place to visit throughout the year. During summer it can get a bit crowded, since over 11,000 people visit the Park daily. The best time to visit the National Park could be shoulder-season because it is still not that crowded and the weather is perfect to enjoy the nature. Visiting the park in winter is also a great idea – the entire park is covered in snow and ice in the most enchanting way, but keep in mind that some parts of the park may be closed.
Q: Can we enter the park with a Disabled vehicle?
Driving in the national park is not allowed, also not with a disabled vehicle. In general, we would advise visitors with a wheelchair or with a walking disability to get in contact with the national park management and ask for individual advice.
Q: Is there Luggage storage at Plitvice National Park?
A: Yes, there are storage facilities at both park entrances. The luggage storage is located in the tourist office and available during office hours. This service is free of charge.
Q: I'm going to Plitvice Lakes by bus. Can I bring my bike?
A: Taking a bike is possible but during the busiest months it is very unlikely that you will be able to do it. Please contact the bus company to make sure that you'll be able to bring your bike with you before purchasing a bus ticket.
Q: Can I ride a bike in the national park?
A:  Cycling is not permitted within the national park, except for the southernmost and northernmost edges of the park where you can find marked cycling trails.
Q: Is there any other way of getting around the national park besides walking?
A: Yes, there are two boat routes operating on Lake Kozjak and electric trains that run between the two entrances. All rides are free of charge, you just need to present your valid entrance ticket.