Home » Events, Party
Partybus to DJ Morales at Aurora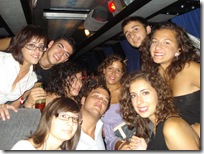 On the 8th of August our Party busses from Split went to the event of they year – DJ David Morales playing at Aurora Primošten. This year was 10th time that Morales was playing at Aurora, Danny the owner of Aurora had informed us to be there in good time; otherwise we would not be able to get the bus close to the club.
So at 10 PM we left with the busses from Spilt, In Trogir we picked some more party guest, the atmosphere on the bus was great, especially after people got a few glasses of the homemade punch which we where selling at the bus.
Well Arrived at Aurora, the most Horrible news arrived, Morales was cancelled (His plain did not arrive from Italy), which of course was a big disappointment, but looking at the crowd outside of Aurora, it was clear that this night would bring a mega party anyway, so we stayed partying till 6 AM.
On Friday we then took the hard core party guest, to the second Morales night, and this time he was there! so everybody hat great party until 07:00 in the morning where we headed back to Spilt.
You can see all our pictures from the event(s) on Facebook – Splitpartybus
Tags: Trogir