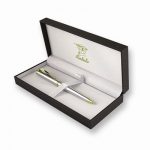 Authentic gift ideas from Croatia part 1
How often do you spend hours in foreign country searching for right present for your family, girl or boy friend, friends, your chief? If you are for a moment in Croatia or you have plans to visit Croatia I will suggest you some traditional gift ideas from Croatia.
– Ball point pen – PENKALA, used by almost everyone, almost everyday, almost everywhere. It was invented here by Slavoljub Eduard Penkala 1871 – 1922. "Penkala" is a famous Zagreb souvenir.
– The original "Croata" tie- a neck tie was first worn by Croatian horsemen who fought on the European fronts from the 17th century to the French revolution, when the French adopted this fashion and gave it name "cravate" (meaning "Croat").
– Croatian naïve Art Paintings-village life, celebrations, festivals, landscapes, portraits.
– Zvonimir Mihanovic paintings. Paintings for the world elite. Definitely the most valued Croatian painter in the US and many other countries.