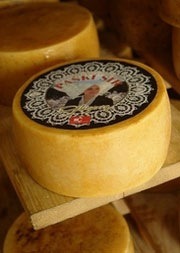 Authentic gift ideas from Croatia part 3
– Traditional made cheese from island Pag.
It is a hard type cheese made from the milk of the autochthon sheep from island of Pag. Pag cheese matures for 6-12 months; it has characteristic piquant taste, particular smell and mildly marbl e and grained texture. It is yellow inside and has golden yellow rind. It crumbles and melts in the mouth. When grated, Pag cheese is used as an addition to many traditional fish and meat specialties. Pag cheese is in the form of a reel and weighs about two kilos.
– Smoked ham called "prsut" from Drnis area.
Drnis is a town halfway between Šibenik and Knin.
The traditional way of producing the ham, and especially the curing process in the north-easterly Velebit wind which brings with it the aroma of Dalmatian vegetation, gives the ham a unique flavour and aroma.
–  Kulen is a type of flavoured sausage made of minced pork that is traditionally produced in Slavonia.It is the most expensive sausagetype product, not only in Slavonia but across Croatia and it is very spicy.
And now for the end of this story take a look one Istrian recipe maybe you will have opportunity in the future to try it.
Istrian recipe
–  Lamb zvacet with ghocchi from koromaca
You need; 1,5 kg of lamb leg, 4 onions, 3 fresh tomatos, 4 lobes of garlic, laurel leaf, cinnamon, muscadine nut, salt, pepper, parsley, scrubbed goat cheese, 1 dl of red wine, 1 dl olive oil. The gnocchi are made from 24 dkgs of flour, 2 eggs, 0,8 dkgs of kromaca and a little butter.The slicced onion is fried on oil until it turnes yellow. We add the meat and fry it untill all the liquid doesn't evaporate. We add tomatos, garlic, parsley, salt, parsley and all the other spices. We pour water on it and slowly let it cook until the meat gets soft. In the end we add wine and cook a little more. The preperation of gnocchi starts with the pealing of the boiled potato and while its still hot we squeeze it. We add salt, eggs, butter, flour and small sliced koromac, We stear it slowly, roll it, and slice the pieces about 3 cm lonf and form the gnocchi. The gnocchi are then covered with zvaceta and sprinkeled with scrubbed cheese. (the recepy from Lošinj).