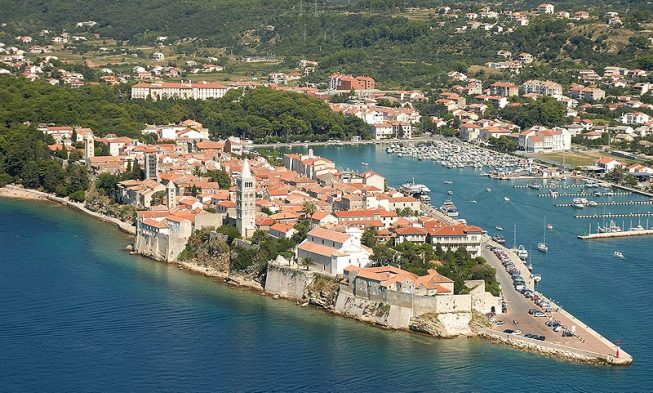 South of the island of Krk is the island of Rab which is known as the island of sun, sea and beauty and one of the greenest islands of the Croatian Adriatic. The island has 9000 inhabitants with its eponymous ancient main town and seven other idyllic places whose inhabitants live mainly from agriculture, fisheries, shipbuilding and tourism.
Unlike the other islands in the Kvarner Gulf, Rab Island has the least populated areas. Rab is the central point of the island and Banjol has the highest population. Lopar is known as sand paradise, a place with the most natural beaches on the Adriatic.
Getting to Rab by car
There are two car ferry lines that sail throughout the year. The first ferry link with the mainland is port Stinica (mainland) – Misnjak (Rab). This ferry line is maintained by Rapska plovidba dd company, and the trip takes 18 minutes. Ferries sail often, especially in the season and a detailed timetable can be viewed here:
Another ferry link is between Valbiska (island of Krk) and Lopar (Rab) maintained by LPN dd. Ferries sail all year round, and a detailed timetable can be viewed here:
To reach the island of Rab from Rijeka, you are recommended to use the ferry Valbiska – Lopar.
If you are arriving by highway from Zagreb, exit the highway at exit Zuta Lokva and continue by a local road in the direction of Senj-Jablanac – ferry Stinica – island of Rab.
If you are coming by highway from the south, exit the highway at exit Maslenica and continue to drive the coastal road to Jablanca, where there is a ferry dock for the ferry to the island of Rab.
Getting to Rab by boat/ferry
Besides the two above mentioned ferry lines there is a boat line (for passengers only) between Lun (Pag) – port Rab. The ship sails all year round 3 times a week and every day in high season (from 03/06 – 16/09). A detailed timetable can be check here:
Getting to Rab by plane
If you are arriving by plane then you have a choice between two airports – Zadar and Rijeka. The distance from Rijeka airport, which is located on the island of Krk, to ferry port Jablanac is 93 kilometers, and the distance to the ferry port Valbiska on the island of Krk (ferry Valbiska-Lopar) is 26 kilometers.
If you come to the Rijeka airport, and your final destination is Rab, the best solution is to take a taxi to Valbiska ferry port on the island of Krk.
Zadar Airport is 132 kilometers from the ferry port Jablanac.
Getting to Rab by bus
Krk has very good bus connections to Rijeka and Zagreb. A bus leaves daily from Rijeka and Zagreb to Rab. A bus from Zagreb has a transfer in Senj. A detailed schedule can be checked on www.buscroatia.com