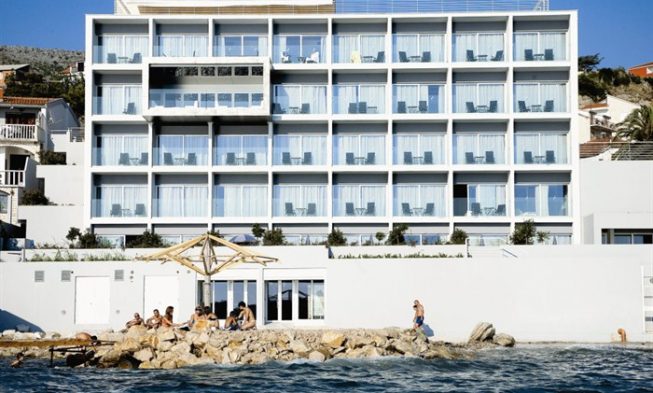 In the time we live, it's becoming more and more important to take care of our environment given the growing pollution and the use of non renewable resources which lead to the greenhouse effect. Thankfully, we have all the technologies available to prevent the further damage of our planet. One sector which can also contribute is tourism by building the so called "green hotels".
In Croatia you will for now find only one hotel of this kind and that one is in Podstrana near Split which was open in 2012. This family, four-star hotel Split is situated by the sea, 300 meters from the Marina Strozanac. The hotel has 40 double rooms, a pool on the roof terrace, a lobby bar with a terrace and other contents.
The hotel is a certified facility of energy efficiency class A; this means that hot water (daily needs 8000 litres) is heated by solar energy, solar power of capacity of about 9.9 kW is installed, there is a rainwater tank which is used for watering green surfaces, cleaning the parking space and the walkway, recycling bins are in the halls, all cleaning detergents are biodegradable, shampoos and soaps in the rooms and public restrooms are pH neutral and have Eco certificates. Hotel employees are educated about energy efficient behaviour.
All the bathrooms in the hotels are classic; they have natural lighting because they are separated by a glass wall from the bedroom area. Usually, beds are placed on the floor but this is not the case here; beds are elevated on some kind of cascade base which enables you to see the sea from the bed. All the rooms have a loggia and a sea view.
In the reception area, the ceiling is actually a stretched linen decorated with drawings of the owner's children; the same thing is found on the staircase. The roof terrace is reached by a panoramic elevator; as already said, on the terrace you will also find a pool which changes colours thanks to LED lights.
By next year, 20 more hotels in Croatia might also become "green hotels":
Zagreb: Astoria, DoubleTree by Hilton, Tomislavov dom, Palace and Esplanada
Ivanić Grad: Sport Hotel
Novigrad: Maestral and Feral
Brela: Bluesun hotel Berulia
Sesvete: Phoenix Hotel
Cres: Kimen Hotel
Well Hotel within the Tuhelj Thermal spa
Tisno: Borovnik Hotel
Rab: Padova Hotel
Mali Lošinj: Vitality Punta Hotel
Rabac: Valamar Hotels
Krk: Koralj Hotel
Varaždin: Turist Hotel
Motovun: Kaštel Motovun Hotel
Petrčane: Iadera Hotel within the Punta Skala Resort