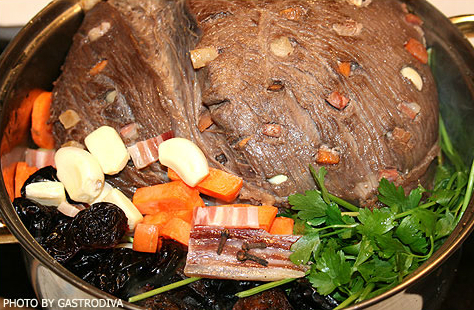 Pasticada with gnocchi (beef pot roast dish from Dalmatia)  is a typical Dalmatian dish which has traditionally been served on special occasions and it was considered a real festive meal that could be served only by wealthy families on special occasions. Even today, this dish is considered to be the pearl of Croatian gastronomy and is still inevitable on special occasions. For each Dalmatian housewife, the preparation of this meal is a true test of culinary maturity.
Ingredients: (For 8-10 Persons)
2 pounds of beef or veal leg
20 g of dried bacon
200 g of onion
150 g of parsley
150 g of carrots
50 g of celery
2 cloves of garlic
20 g of concentrate tomato sauce
200 ml of oil
2 tablespoons of Vegeta
6 dried prunes
6 dried figs
1 apple
300 ml of red wine
2 tablespoons mustard
Bay leaf
Rosemary leaves
Thyme
Salt
Pepper
For the gnocchi:
500 g of potatoes
150-200 g of flour
1 egg
60 g butter
Preparation:
1. Wash the meat and wipe it out. Cut the bacon in strips and prick it into the meat. Than salt the meat, spread it with mustard and oil and let it sit for at least 2 hours or, even better – leave it overnight.
2. Fry the meat round quickly on hot oil to brown all sides. Remove the meat from the frying pan and on the same oil briefly sauté chopped onion, garlic and the rest of the vegetables. Than, return the meat into the frying pan, add Vegeta, cover the dish and stew on medium heat for about 2 hours, occasionally adding mixture of water and vine when necessary.
3. When the meat is half cooked, add the diluted tomato paste, washed prunes and figs, quartered and sliced apple.
4. Finally, when the cooking is almost done, add the rosemary, bay leaf, thyme, salt and pepper.
5. Slice the meat, arrange it on a warm plate, purée the vegetables and add them back to the sauce. Cook for a few more minutes than pour the sauce over the meat and Gnocchi and serve.
6. For the preparation of Gnocchi – peel the potatoes and purée it while it's still hot. Add the flour, butter, egg and salt. Mix everything together and stir to combine. Now divide the dough into two – tree pieces. Each peace form in a shape of a long roller and cut in pieces of equal size.
7. Cook the Gnocchi in salted, boiling water for about 10 minutes and strain.