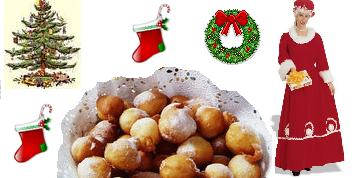 Fritule – Dalmatian essence for Christmas eve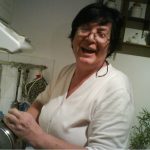 My children adore this speciality. "Fritule" have long tradition preparing in Dalmatian
during Christmas time.Children likes them because they are like little doughnuts.
But they are not doughnuts they are much, much better. So here is recipe if you want to try it:
You need: 30 g ferment
Little water
1,5 kg flour
rum or brandy
3-4 spoon currant
Scrabble lemon crust,little nutmeg
One hand of chip almonds
1 l oil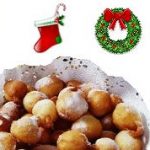 vanilla sugar
In little pot you put 30 gram of ferment, little flour mixed with little heat water and leave for couple of minutes so dough can arise.
In one big pot put the rest of the flour and in the middle add ferment with little
salt water ,enough you can blend dough with big wooden spoon.Careful with water so you don't make dough to much attenuate.Add brandy, currant, nutmeg, chip almonds, lemon crust, and vanilla sugar.
Blend again until you see dough make bubbles. Leave dough for 1 hour, In mean time make warm 1 litre of oil.
With spoon and fingers make small sizes of dough and drop in hot oil.
When fritters come up on surface take them out and sprinkle with grinded sugar.
Advice: everytime you take dough with spoon …take dough with spoon wet of water, It is much easier.
Serve them warm and fresh made.