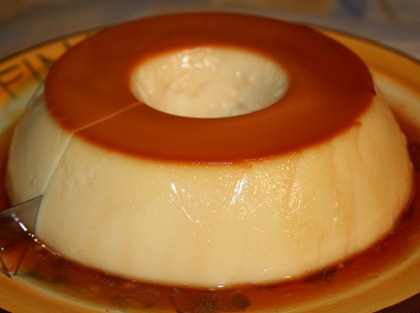 Rozata – Dalmatian version of crème brûlée
Rozata is a traditional Dalmatian pudding with caramel sauce, a dessert similar to the French Crème Brulee. This delicious pudding dessert is made from eggs, sugar and milk and it is especially esteemed in Dubrovnik area. Rozata was included in the list of Croatian culinary heritage dishes, it is considered a superb delicacy with a light, perfect taste, and can often be ordered in most of Dalmatian restaurants.
Ingredients:
1 liter of milk
300 g crystal sugar
10 g of vanilla sugar
grated lemon peel
7 eggs
2 egg yolks
butter for the ramekin
Preparation:
1. Cook together milk, sugar, vanilla sugar, a grated lemon peel, and let it chill. On the other side, whisk together eggs and yolks until well blended and it starts to lighten in color, than mix it with prepared milk.
2. Prepare the caramel: Put sugar in a bowl with a few drops of water and cook until it starts to get light brown color.
3. Now pour the liquid into a larger ramekin (if you like you can use several smaller ramekins), which you previously coated with butter and caramel soak.
4. Place the ramekins into a large baking or roasting pan. Pour enough water into the pan so it comes halfway up the sides of the ramekins and bake (boil) at 180° C – about 20 minutes for the smaller ramekins, and 40 minutes for the bigger ones.
Serving:
When the cream is cooled down, remove it from the ramekin and serve it on the plates, put the caramel sauce on the top and add whipped cream on the side to decorate. To prepare caramel sauce pour the water in the rest of caramelized sugar and cook until the sugar is half cooked.