Home » Dalmatia
Podstrana
Podstrana is a tourist town located just 7 kilometres from the city of Split is situated at the foot of Perun, the slope of the mountain Mosor. Podstrana consists of five villages: oldest Gornja Podstrana which is situated on the slopes of Perun, at an altitude of 290 meters. Strozanac, Grljevac, St. Martin and Mutogras are villages along the coast.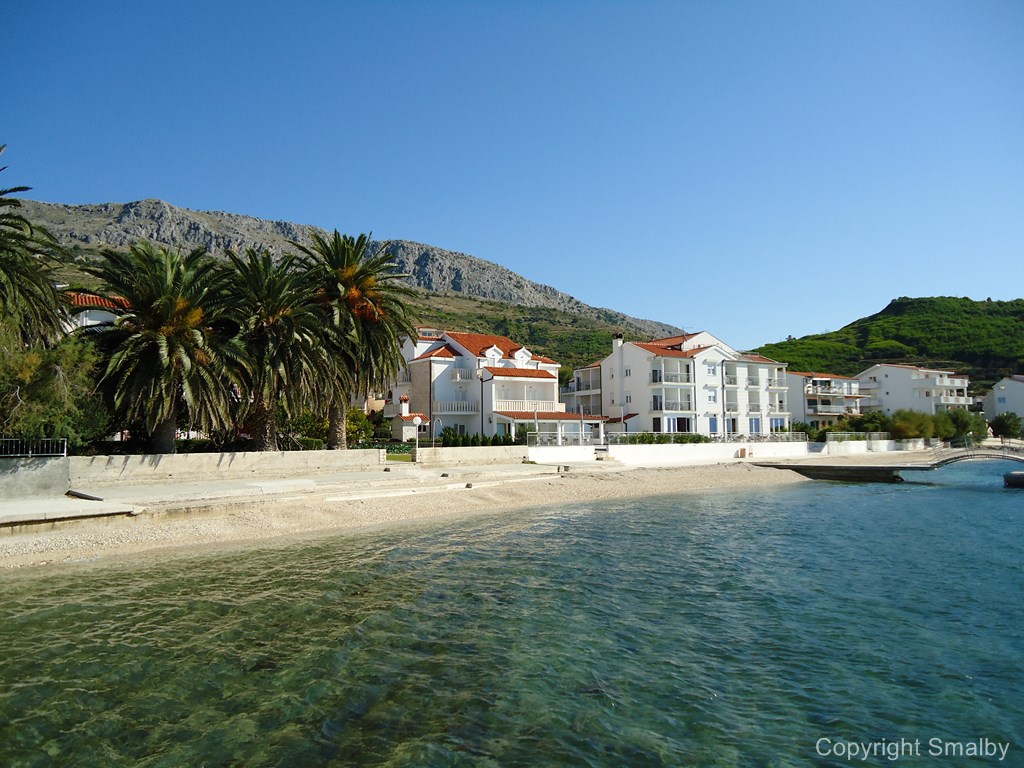 In recent years, Podstrana has, due to its ideal position, been developing as an elite suburb of Split. Beautiful beaches, hiking and biking trails make Podstana a really attractive tourist destination. Today in Podstrana there is a total of 12000 inhabitants.
Beaches in Podstrana

Beaches in Podstrana are gravel with a good access to the sea. Some parts also have concrete piers. The beaches in Podstrana stretch over 6 km, due to small family hotels and apartments by the sea, in Podstrana you will not find natural shade, but you will have no problem finding accommodation that is directly at the beach.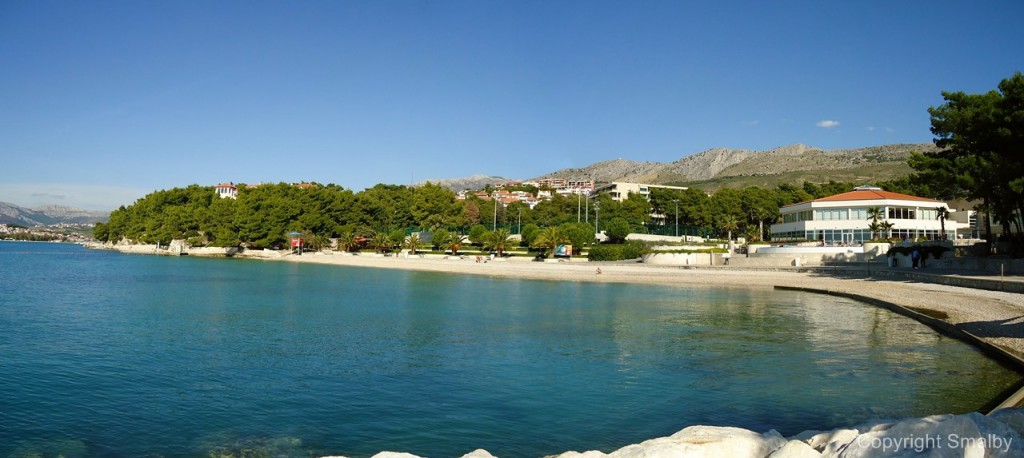 The most beautiful beach in Podstrana is in the Hotel Le Meridien Lav. With the construction of the hotel Le Meridien, one of the most beautiful hotels in the area, the beach was also completely renovated and a lot of additional content was introduced. Near the beach there is an open outdoor swimming pool (for hotel guests only), children's playground, parking in the garage (extra charge). On the beach there is a possibility to rent chairs and umbrellas, and right next to the beach in the hotel complex there is a cafe and a restaurant. At sea various sports activities are offered: windsurfing, sailing, water skiing and various other water sports.
Accommodation in Podstrana

Podstrana has a total of more than 2500 accommodation units; one part is in the hotels and the rest is private apartments and villas. The most famous is the hotel complex Le Meridien Lav ***** that offers a wide range of luxurious and modern accommodation (a total of 365 rooms and 17 suites). The hotel is located directly on the coast and rooms have a beautiful view of the sea, Split and the neighbouring islands. The newest hotel in Podstrana is the Hotel Split **** which was open in 2013. The hotel has 40 rooms available, located directly on the beach, and on top of the hotel is the pool with a beautiful view.
Restaurants in Podstrana

Given that Podstrana is tourism-oriented place, gastronomy is really excellent; Dalmatian dishes prepared according to traditional local recipes stand out. Podstrana has a really great selection of local taverns, restaurants and pizzerias, the famous restaurant is Arkada, a restaurant with a rich tradition which was open in 1969.
What to do in Podstrana

Due to the excellent location of Podstrana (close to Split and Omis) there are really great opportunities to organize day trips organized by some of the local agency or an independent tour of the cultural heritage and natural beauty. Given their proximity definitely recommend an independent tour of Split, Salona, Klis, Trogir and Omis.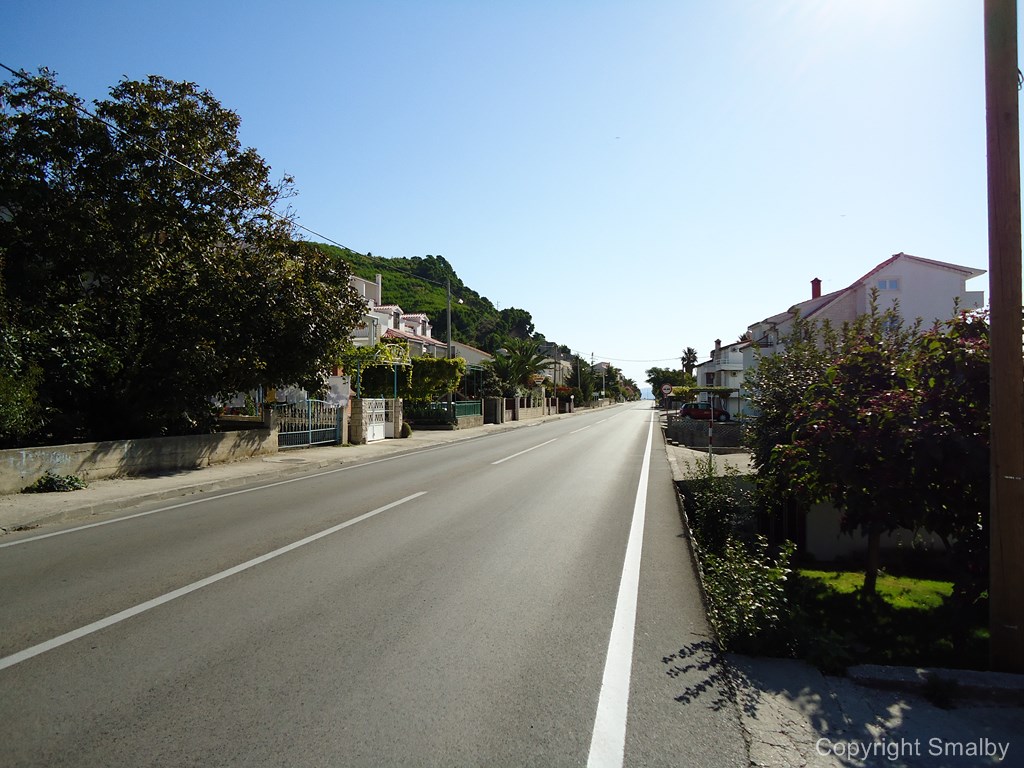 Different travel agents from Podstrana organize a number of one day trips:
one day trip to Dubrovnik
trip to Medjugorje and Mostar
various day trips by tourist boats on Brac, Hvar and Solta
trip to National Park Plitvička jezera
Shopping in Podstrana
Podstrana has a few grocery stores that are open every day where you can find a huge range of groceries. If you want to go to a larger hypermarket and shopping centre then we recommend City Center One which is only 5 kilometers from Podstrana. Besides the hypermarket in the centre there is a large selection of apparel, footwear, perfume shops, pharmacy…
Nightlife in Podstrana
In Podstrana you can relax in one of the bars that are located directly at the beach and enjoy a rich variety of cocktails. However, for various entertainment we recommend going to the nearby Split.
Getting to Podstrana
From Split there are plenty of daily buses to Podstrana, bus cost about 20 kn and the trip takes about 15 minutes.
If you are arriving to Podstrana via the highway you should exit the highway in Dogopolje and then drive direction Split and later Omis. From the highway exit there is about 15 km to Podstrana.
Tags: beach, Places to visit, Split