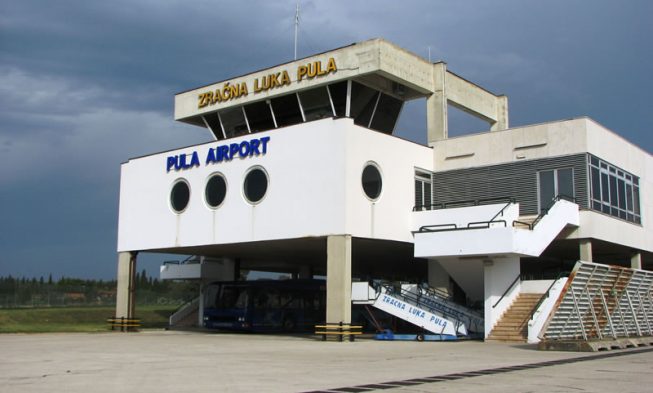 The airport in Pula is one of nine airports in Croatia and is located 5 km from the centre of Pula. It is not one of the big airports but you can find there all you need when you travel from or come to Pula; a duty free shop, ATM machines, a coffee bar, several car-rental agencies.
Airline companies at Pula airport
The airport in Pula is the busiest during summer season. These are some of the companies that cooperate with Pula airport: Croatia Airlines, Austrian Airlines, Ukraine International Airlines, Belarusian National Airlines Belavia, Rossiya, KrasAir, KMV, Europe Airpost, Europe Airpost, Jat Airways, Flyglobespan, Polet, Siberia, Transavia airlines, Eurowings, Ural Airlines, FlyNordic, Malmo Aviation, AeroSvit, Ryanair, Air Mediterranee…
Transport from and to Pula airport
The airport in Pula can be reached by taxi or bus. Bus companies that provide airport transport services are Brioni Pula and Fils. Their shuttle buses drive the following routes: Pula Airport – Pula – Medulin – Puntizela – Fazana – Rovinj – Porec. Departures from Pula Airport take place in accordance with Pula Airport flight plan i.e. 30 minutes after the landing of any scheduled Low-Cost Carrier. The price for one way ticket is 5 Euros (around 35 kn).
Renting a car at the Pula airport:
At the Pula airport you will find sales office from several international as well as a few local car rental companies. Current rental offers from the Pula airport you can find if you click here:
Distance from Pula airport to bigger cities in the area
Pula airport – Pula, 8 km/13 minutes
Pula airport – Rovinj, 39 km/41 minutes
Pula airport – Porec, 57 km/51 minutes
Pula airport – Medulin, 13km/17 minutes
If you want to take a taxi to reach one of these places from Pula airport these are the prices which apply for a taxi ride: 15 kn for the start, 10 kn per one km for up to 4 people and 15 kn for up to 8 people, 90 kn for 1 hour waiting; no charge for luggage.
Parking area at Pula airport
The parking area has two parts: the part A and the part B. The parking tickets can be paid directly at the automatic machine in the terminal building. Here you can see the prices.
Contact and address