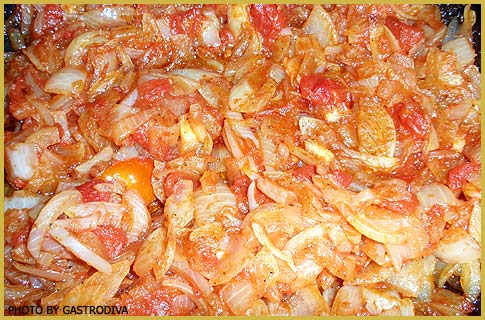 Salted sardines Pie from Island Vis
This is a very old traditional recipe from the Island of Vis, if you visit the Island you can try the dish in most of the restaurants.

How to make: Mix warm water with two spoons of sugar and yeast and let it stay approximately for 15 minutes in a warm place. Then add the flour and salt, mix everything together and stir to combine. Now leave the dough to rise for one hour. When the dough gets big and bubbly divide it in two pieces – one bigger and one smaller piece. Roll out each of them (thickness of the pizza). A bigger part of dough you will place in a greased (use olive oil), baking pan so it covers the entire pan; bottom and sides. Now you are ready to put a fill. There are two ways of filling this pie:
1. You will fill it with fresh, shredded onion, salted sardine fillets, olive oil and pepper (Variation of this pie is Salted sardines Pie from Komiza on Island Vis and it includes tomatoes in a fill).
2. Warm the olive oil in a large frying pan over medium high heat and add shredded onion. Quickly cook the onions, moving them around the pan with a wooden spoon or spatula. It will take you approximately 5-7 minutes for the onions to get nicely browned. Add the fried onions on top of the dough you have placed in the baking pan, add salted sardine fillets, olive oil and pepper on top of it.
Now cover all with the other (smaller) part of dough and prick the surface all over with a fork and close the filling by bringing the dough from all sides together so the filling doesn't leak out. Cover with a damp cloth and allow it to rise (15 minutes). Bake at 180 degrees C for 35 to 45 minutes, until it catches a beautiful golden color. When you remove it from the oven, cover with a clean, damp kitchen towel, leave it for a few minutes to rest and than serve.
Ingredients:
1 kg of flour
4 g of yeast
2 tablespoons of sugar
2 dg of salt
12-15 pieces of salted sardines (cleaned)
5-6 tomatoes cut in small peaces (for variation of Komiza pie)
0.5 dl of olive oil
1/2 kg of onions
pepper