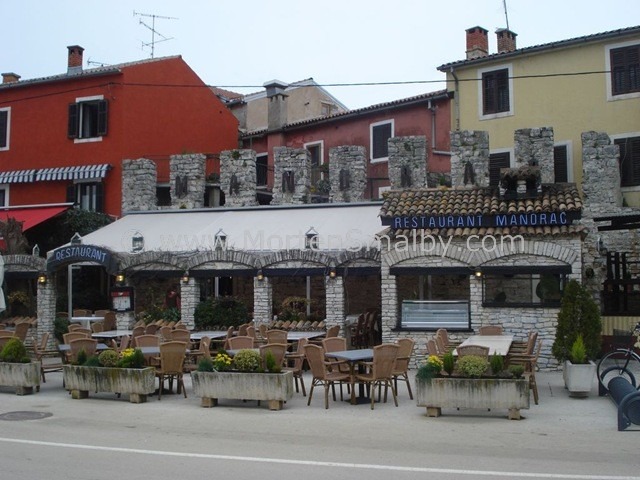 Novigrad:
Unfortunately the weather was not to go on Easter Sunday, but we anyway decided of visit the cities along the coastal road north of Porec. First stop on the road was Novigrad, which is about 12 km north of Porec.
In Novigrad we have a customer, which we visited several times the last 3 last years. Until this visit i always thought city looked a bit boring to me, but i turned out that the city actually have a quit charming promenade and old town part, which definitely is worth while visiting. I the bay at the north part of the town several new apartment houses and a brand new marina are being build, so I am sure Novigrad, will have an increased number of visitors in the future.
What to see in Novigrad:
Several museums, marine museum and "Lapidarium".
Summer events which include fishermen nights, blues festival and sports activities.
Eating out:
Restaurant Mandrac on the promenade
Where to stay:
Private accommodation or Hotel can be found in the centre, 5 km south of town you find one of Croatians largest camps "lanterna" which has several thousand pitches.
See all our pictures from Novigrad here:
Umag:
After visiting Novigrad we headed on to Umag, which is about 7 km from the border to Slovenia and only 30 km from Trieste in Italy, which explain the huge number of Italians.
Personally I believe Umag not the most interesting city in Istria, but because of it geographic placement Umag has visitors all year, main part of them are staying in the 6-7 large hotels at the north end of the town, also here the international tennis stadium, which each year hosts an ATP tournament, can be found.
The peninsula with the old part of Umag has a large number of Fish restaurant all place directly to the water on the south side of the peninsula, the rumor is that several of these restaurants should be quite good.
What to see / what to do in Umag:
Umag aquarium, which holds most of the species from the Adriatic see.
The hotel at northern end of town have extensive wellness program
During whole year event are taking place in these hotels.
Eating out:
10-12 fish restaurants on south side of peninsula.
Where to stay:
Hotels, I personally can recommend sol Umag whic has nice wellness area. as an alternative a large number of private accommodations can be found.
South of Umag the new renovated camp – Camping park Umag which offer 5 star camping.
See all our pictures from Umag here:
From Umag we drowe back to Porec, where we in the evening had the most perfect home made Gnocci at Gina and Dino's restaurant Kvartin.