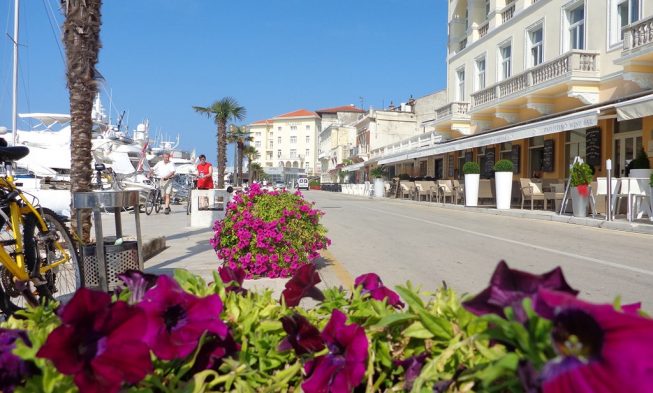 Porec is a city on the western coast of Istria. After Pula, it's the biggest Istrian city. The city was inhabited even in ancient times; the walls around the city were built during the Roman period.
Porec has about 17 000 inhabitants who are now mainly engaged in tourism which is also the main industry; before people were mainly engaged in agriculture and fishing.
Table of content:
Beaches in Porec
Most beaches in Porec have a Blue flag which is an international award for high sea quality and the unpolluted environment.
One of the most popular beaches in Porec is the city beach which is located in the centre. This beach is excellent if you are looking for entertainment facilities. It is equipped with showers, sun chairs and umbrellas for rent. The beach also has access for people with disabilities. near the beach you will find a number of restaurants and bars.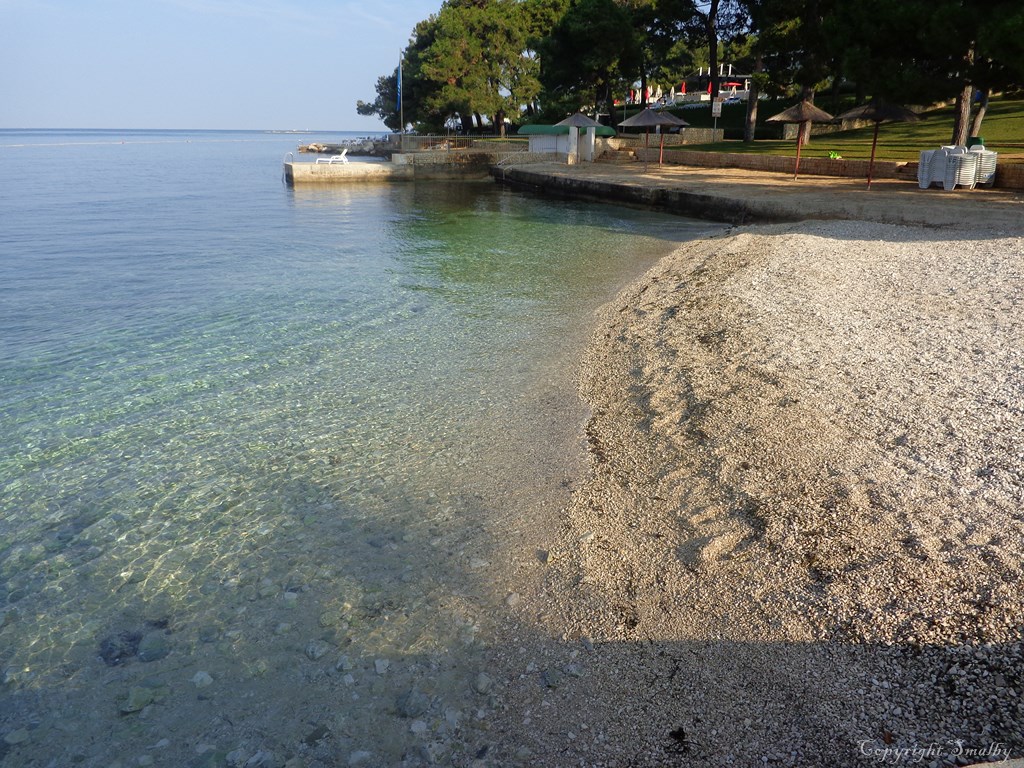 More on Porec beaches can be seen here.
Accommodation in Porec
Like any major tourist destination, Porec also has a variety of accommodation types. Regarding hotels, all categories can be found. One of the best hotels is Valamar Diamant. This is a 4 star, air conditioned hotel, open all year round. It is situated 10 minutes from the centre of Porec. It has 457 beds in single and double rooms; some of them are adapted to people with special needs. There is also a show cooking restaurant, à la carte restaurant, bar and lobby bar. In the vicinity of the hotel you can find a beach; there is also an outdoor and an indoor pool. Wellness centre will provide you with various massages and body treatments; to stay in a good shape you can practice different sports like tennis or join the fitness centre.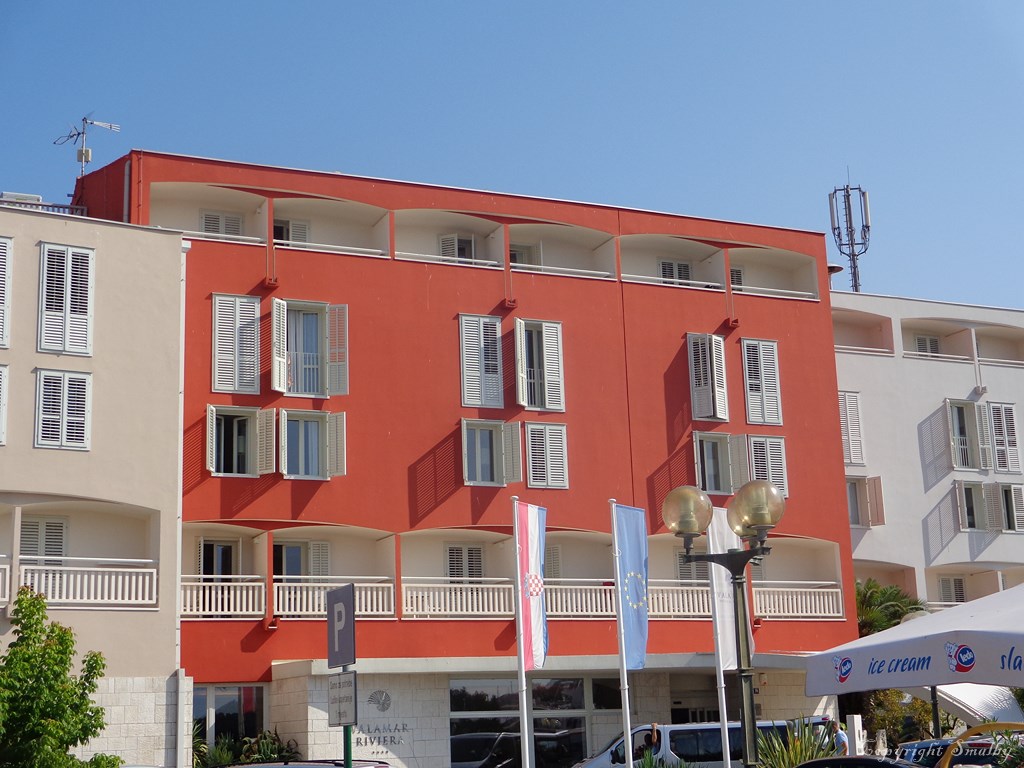 Porec is known for two resorts: Plava and Zelena Laguna. The resort Plava Laguna is situated 3 km from Porec which can be reached in 20 minutes walking along the sea. In the resort you will find hotels, apartments, villas, studio apartments and villages. The resort has beautiful beaches and environment as well as clean sea.
In Zelena Laguna you will find hotels, camps and apartments. This resort is unique in contents and the beauty of environment in whole Croatia. Here you will find numerous restaurants, bars, sport centres, shops, discotheques, terraces with live music, animation programs…
Private accommodation is also present in Porec in forms of renting apartments and rooms.
Camping in Porec
There are plenty of camps in Porec. One of the best  is Camping Bijela Uvala, a four star camp. The surface of the camp site is 45 ha; it has a capacity of 6000 people on 1200 parcelled pitches which have water and electricity hook-ups. The camp has 2 outdoor pools, paved,  pebbly and rocky beach, naturist beach and children's beach. Sanitary facilities are equipped with showers with warm water, sinks with warm water, washing-basins with warm water, WC, WC for the disabled, hand-washing laundry area, baby changing area, dog washing area, private bathrooms. Other facilities are: restaurants, grills, bars, supermarket, souvenir, shops/newspapers and dance terrace. At an additional charge you can play tennis, table tennis, mini golf, ride bicycles…
Camping Zelena Laguna is located in the centre of Zelena Laguna Resort. Inside of camping there are numerous facilities such as an outdoor swimming pool, mini golf and tennis courts, a children's playground and a fitness and wellness centre.
Camping Lanterna is biggest campsite in Croatia, aith capacity up ti 9.000 guests. This 3 star cam is located between Novigrad and Porec. Camping Lanterna prides itself on being one of the best campsites in Europe.
In Porec you will also find several naturist camps.
What to see and do in Porec
What is most characteristic of Porec is the Euphrasian Basilica which was built in the 6th century during the period of bishop Euphrasius. The basilica was protected by the UNESCO in 1997.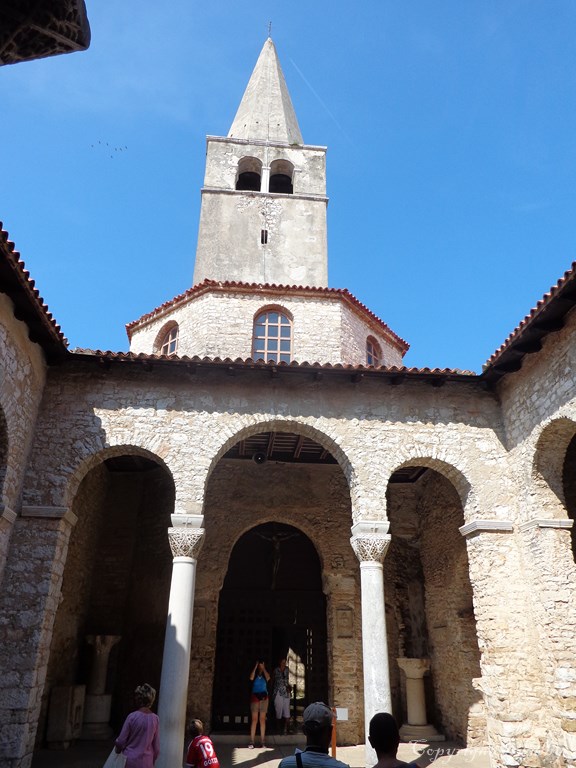 The old town has preserved the original Roman street layout; the main streets of Cardo and Decumanus. Marafor was a Roman square (forum) with two temples, one dedicated to the Roman god Neptune and the other one to Mars.
According to some sources, Porec once had 11 towers of which only three are preserved: Northern, Southern and Pentagonal built in the 15th century.
In the 13th century many palaces were built in Porec; the best preserved are the Romanesque house and the House of Two Saints which was supposedly once a Benedictine Abbey. The House of Two Saints have two figures of saints on its facade.
The Istrian Council House is an example of Gothic architecture; originally, it was a Franciscan church and today concerts and exhibitions take place there.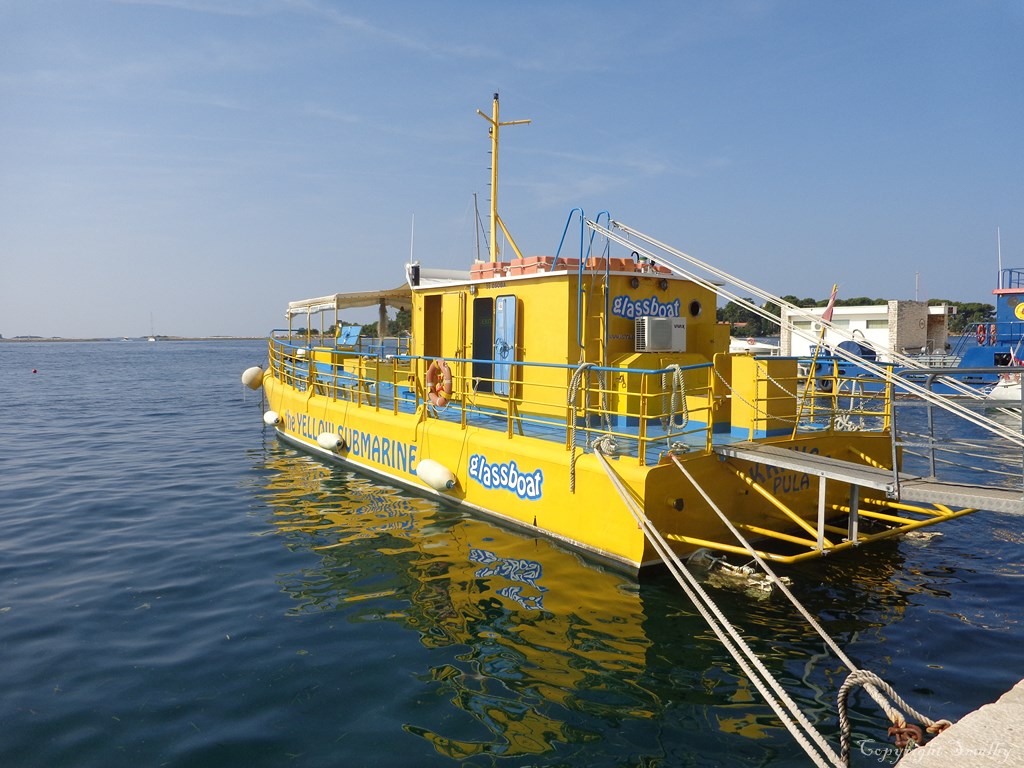 Besides culture and monuments, there are also natural beauties that can be seen during your visit to Porec.
Six km from Porec you can visit the Baredine cave which is adapted for tourist visits. This cave is a geomorphologic phenomenon, rich in stalactites, stalagmites and underground lakes; you will have a chance to see the olm (proteus anguinus), an endemic species living only in this kind of environment.
There are also several other caves like Markova jama and Pincinova jama.
Porec also has its Aquarium located in the centre of the town; here you will get to know the underworld of the Adriatic Sea.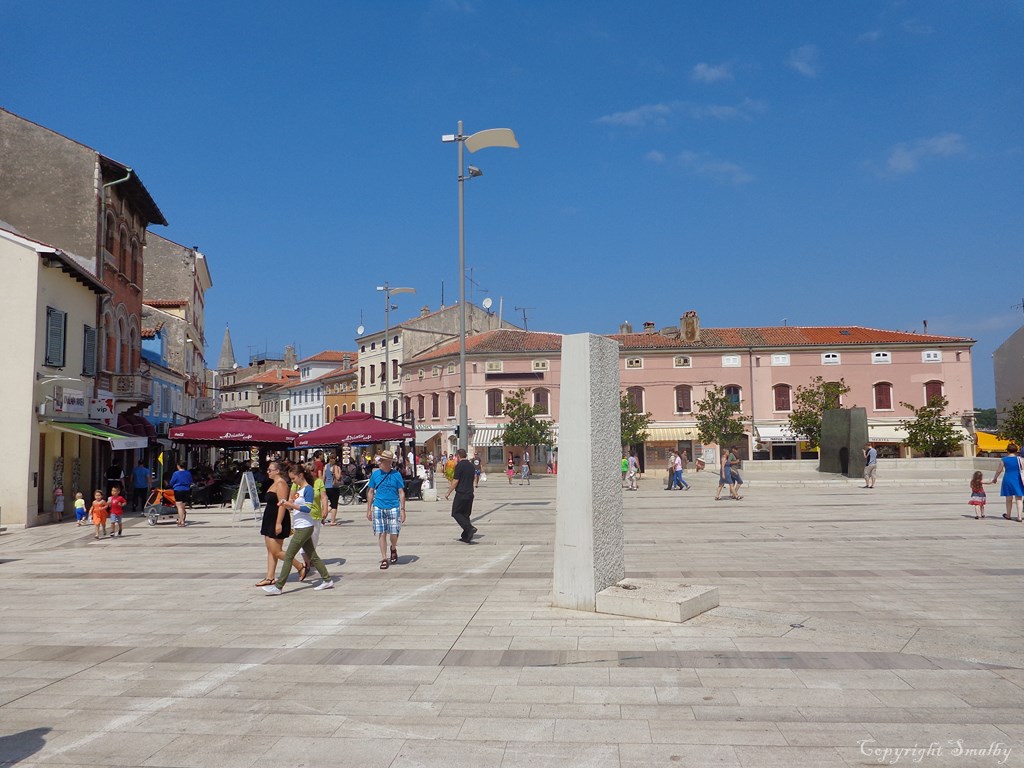 Along the coast, around Porec, many sports activities can be practiced. There are many diving centres, sailing boats can be rented as well as paddle boats, motor boats, jet ski and many more.
Porec area is excellent for bike riding and walking.
Day-trips from Porec
Daytrip offer from Porec is very rich, whether it includes continental or coastal Istria. Boat daytrips are organized to the Lim Channel, Rovinj, National Park Brijuni or Venice in Italy. You can also visit some other nice Istrian cities like Pula, Medulin, Umag or Novigrad. Daytrips to Plitvice National Park are also organized by local travel agents.
Where to eat in Porec
In Porec you will find restaurants offering traditional Istrian cuisine based on fresh and healthy ingredients. The main Istrian dishes are soups (called maneštra), home made pasta (fuzi and gnocchi) in different meat sauces or with the famous Istrian truffles and asparagus.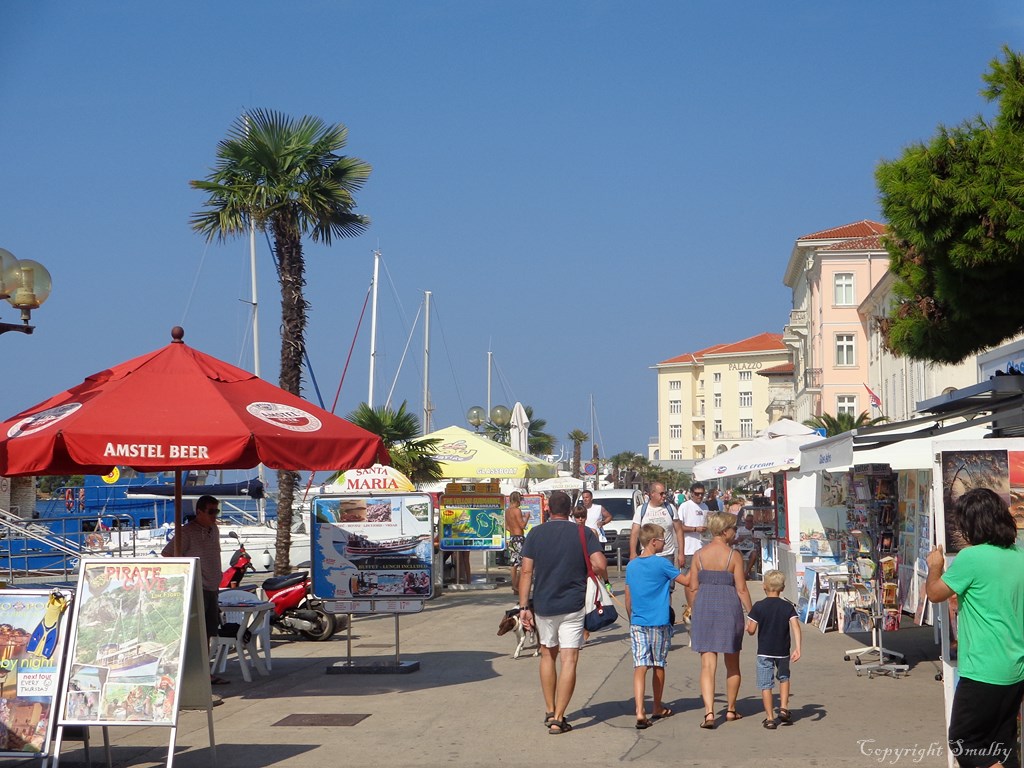 Along with these dishes go some of the excellent Istrian wines like teran or malvazija.
Taverns can also be found where you can try home made dishes prepared with locally produced ingredients.
Marinas in Porec
There are three marinas in the area of Porec. One can be found 8 km from Porec in Cervar Port, a tourist resort. This marina is open all year round and it has 400 berths and 50 dry berths.
Opposite of the old town of Porec there is the Marina Porec with 100 berths with water and electricity hook-ups, sanitary facilities and a 5 t crane.
In Zelena laguna you will find the eponymous marina with 184 berths, 50 dry berths, two cranes and a possibility to fix your boat.
Shopping in Porec
For your holiday shopping in Porec you will find plenty of small shops as well as bigger shop chains like Konzum where you can buy anything you need for your vacation. As in all tourist places, here you will also find a number of souvenir shops. Porec also has its market where you can buy locally produced vegetables and fruits as well as fresh fish. More about shopping Porec you can read here
Nightlife in Porec
Nightlife entertainment in Porec includes many bars, beach bars, lounges and discotheques. One of the famous places is Byblos discotheque where many eminent artists have performed. You can also enjoy live music and dance evenings on restaurant and hotel summer terraces.
How to get to Porec
Porec can be reached by car, bus or plane. Since it's a coastal town it can be reached by the coastal road or the Istrian highway (called the Istrian Y) taking the exit Visnjan. The nearest airport is in Pula from where you can take a bus to Porec which is well connected by bus with many Istrian towns.