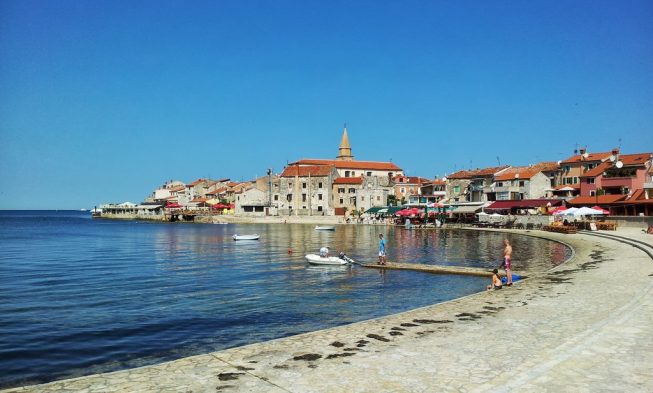 Umag is a city in western Istria and at the same time the westernmost place in Croatia, only 10 km from the Slovenian border. Today, there are around 13 000 inhabitants in Umag who are mainly engaged in tourism, agriculture, olive and wine growing since Istria has terra rossa (red soil) which is very fertile.
Umag was founded already in the ancient times when people started inhabiting an island which later became a peninsula. In written form, it was mentioned for the first time in the 6th century under the name of Humagum. It developed thanks to its favourable position; it was on the way of Aquilea founded by the Romans as their military base for Istria and Northern Adriatic. Just like all Istria, Umag was also under the rule of different empires.
Table of content:
Beaches in Umag
In Western Istria and Umag you will find some of the beaches with the highest sea quality which is proved by the Blue Flags that can be seen on many beaches in Umag. Some of the most known Umag beaches are Katoro, Aurora, Kanegra and Laguna Stella Maris.
Katoro Beach is situated within the eponymous tourist resort with several hotels, 2 km from Umag. The beach is divided into concrete, rocky and pebbly parts. You will find various contents on the beach: sports facilities, tennis and volleyball courts, showers, changing rooms, aquagan, several bars and restaurants. Volleyball and tennis tournaments are often organized here.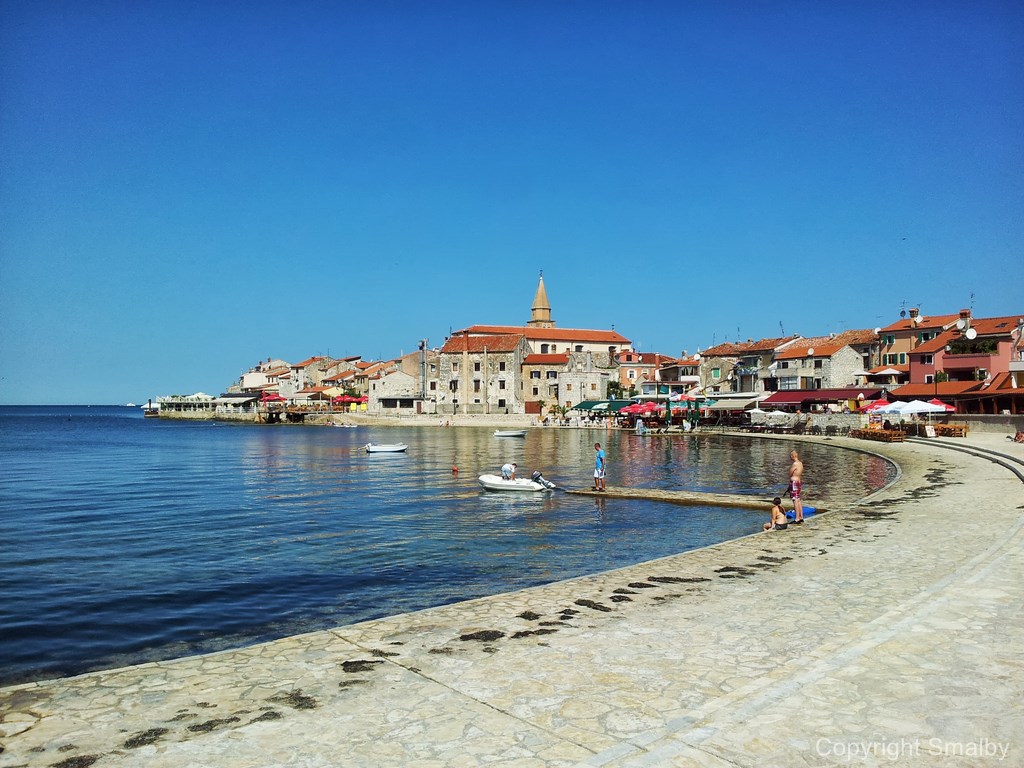 Laguna Stella Maris Beach is a pebbly beach situated 3 km from Umag. It is surrounded with pine trees where you can find shade on hot summer days. The beach offers various types of contents, from entertainment, sports and catering facilities.
Kanegra Beach is situated within the Kanegra tourist resort, 7 km from Umag, near Savudrija. This is a pebbly beach surrounded with pine trees, ideal for families with children. Kanegra tourist resort also includes a naturist camp and beach.
Accommodation in Umag
Tourism has lately been developing very rapidly in Umag; therefore, there is a large selection of high quality, luxurious hotels with a great offer of contents. Some of the best hotels are: Hotel Melia Coral, Hotel Sol Umag, Kempinski Hotel Adriatic…
Several small, family hotels can also be found: Hotel Villa Rosetta, Zlatna Vala, Villa Valdepian…
It is also interesting that Umag has a bike hotel, Sol Garden. It offers the best standards for a cycling holiday; a cycling expert who will advise you on the best cycling trails and routes. They also offer information on excursions, advice on training, equipment…
In Umag several campsites can be found. The best one is the Camping park Umag surrounded with lush vegetation offering also an eco park with autochthonous plant species. Accommodation in this campsite is available on parcels, in mobile homes and Superior houses. The camp has a vast offer of animation and entertainment programs for children as well as for adults: outdoor polls with a pirate ship, numerous playgrounds, a dancing terrace… Sports enthusiasts can play beach volleyball, football, bocce, go jogging or cycling…
Camping Stella Maris is four star camp located only 1.5 kilometres from Umag and it can accommodate up to 1.725 guests. The Stella Maris campsite has several shops and restaurants, a sea water swimming pool and a swimming lagoon also filled with salt water.
Umag also has one of the best nudist camps in Croatia, camping IN Kanegra FKK. It has 193 camping units and newly built sanitary facilities. The camp and the pebbly beach are surrounded with lush vegetation and awarded with the Blue Flag. As for entertainment, the guests can enjoy live music at night, sports competitions, water sports, tennis, mini golf…
Apartment resorts are also available in Umag or in the close vicinity. Residence Skiper is a four star apartment resort situated in the vicinity of Savudrija. In this resort you will find a big outdoor pool, a sports centre, a restaurant with Istrian and Mediterranean dishes, a golf course, beach volleyball… All apartments have a bathroom and a large living room, big terraces or balconies. Wi-Fi is available at the Golf club restaurant.
As in all tourist destinations, private accommodation can be found in vacation houses or apartments.
What to see and do in Umag
Although it dates back to the ancient times, Umag has preserved only the Medieval architecture. The remnants of this are seen in the city walls, Venetian villas, picturesque streets… As already mentioned, the Old Town is now on a peninsula which was once an island. In the 10th century the city walls were built around the settlement and which was connected to the mainland by a drawbridge.
The best preserved building is also the oldest one – the west tower which houses the Museum of the City.
In the centre there is a square with the church of the Assumption of Mary.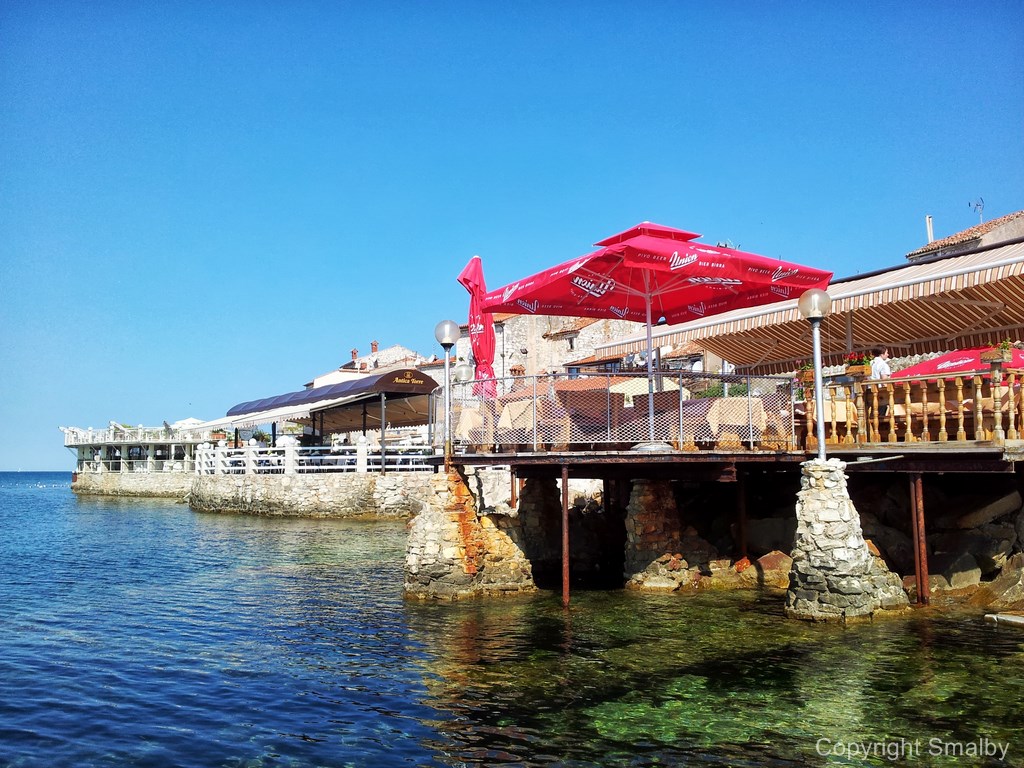 A little bit outside Umag, in Savudrija, you can visit the oldest lighthouse in Croatia. It was built in 1818 and there is a legend about its construction. Metternich, an Austrian count, fell in love with a Croatian lady at a Viennese ball so he had this lighthouse built only for her. However, she got ill and never got to see it, so the count decided to never again visit the lighthouse.
In Umag, and some other Istrian cities as well, Sole Fish Days are held every year. This manifestation lasts for a month and is held in restaurants which offer 4 course menus based on common sole, accompanied by excellent Istrian wines and olive oil.
In order to prolong the wellness season, Umag offers the days of wellness, Welldays, which take place during October. Three hotel wellness centres offer special packages which include staying in a comfortable hotel, half-board service and daily entrance to the wellness center.
Music lovers can enjoy the UmagoBlues music festival and taste some of the local specialties.
Another festival is Umagination which is a festival of electronic music taking place in Umag for four years.
What Umag is most famous for is the ATP Croatian Open Umag tennis tournament which takes place every year in July.
Generally speaking, in terms of sport, there is always something going on in Umag whether it is about tennis, football, golf…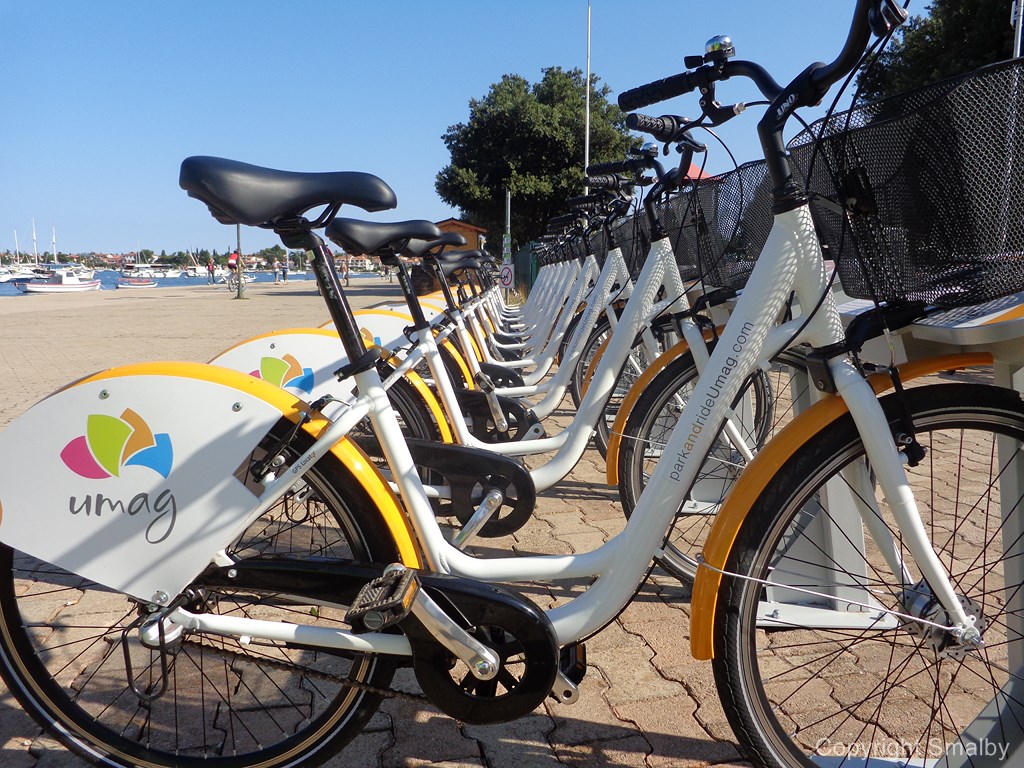 Umag has recently got Park&Ride bike rental system which is unique on the Adriatic. This project connects tourist resorts and the centre of Umag making it easier for the people to go around. Besides classical bikes, it is also possible to rent the electric ones.
Tourists can also enjoy sightseeing in a tourist train which drives from the tourist resort Katoro to the centre of Umag.
Day trips from Umag
From Umag, several day trips can be taken, for example to Pula, Rovinj, Medulin, Porec or some other nice Istrian towns. You can also visit the National Park Brijuni and enjoy its natural and historical beauties or take a boat trip to Venice.
Where to eat in Umag
In restaurants in Umag you can have international dishes and, of course, all the traditional Istrian dishes as well. The Istrian cuisine is based on soups (maneštra) made of three kinds of vegetables, home made pasta (fuzi and gnocchi), the Istran beef (boškarin), the Istran truffle, asparagus… All this can be accompanied by some of the excellent Istrian wines like teran or malvazija.
An alternative to restaurants are taverns in which you can try home made dishes based on fresh and locally produced ingredients.
Nightlife in Umag
In Umag you can have a drink in one of the bars along the seaside promenade. Some of the popular clubs are GoldenFish in which parties last all day long while Jimmy Woo is an elegant dress code night club. There is also Macumba beach bar and Hemingway which is open only during the ATP Croatian Open.
Depending on the period in which you visit Umag, you can enjoy some of the concerts or festivals mentioned above.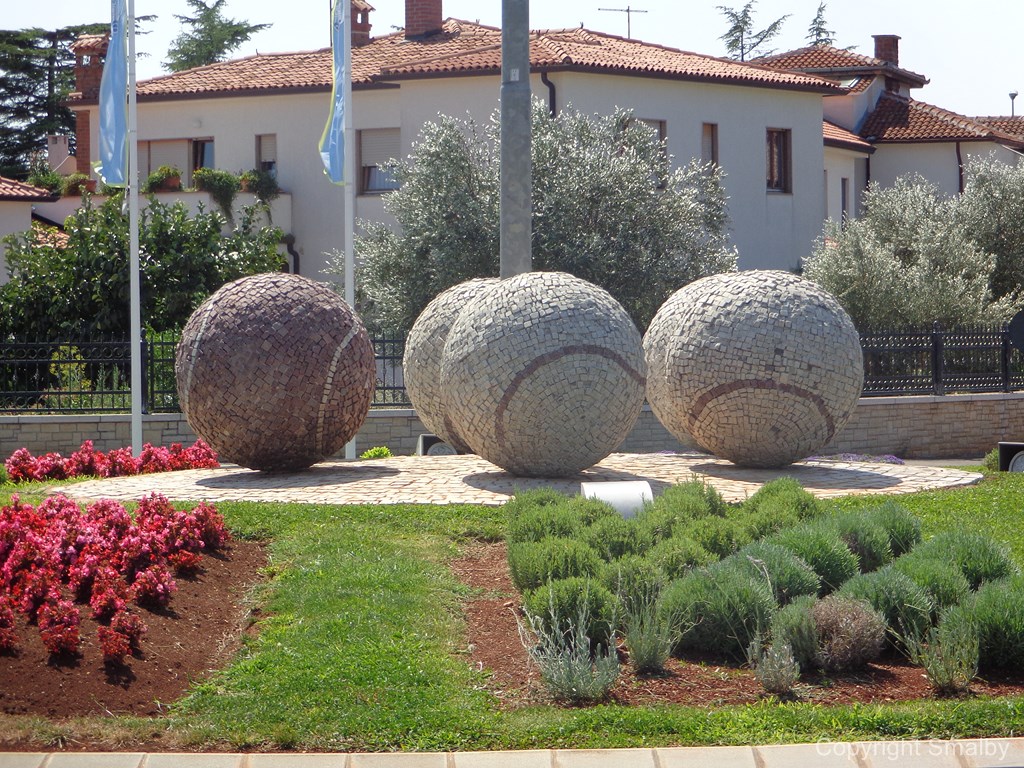 Shopping in Umag
Most supermarkets im Umag are open every day during summer season. Some of the larger supermarket chains in Umag are Konzum, Plodine and Getro in which you can find all you need for a holiday.
If you want to have something authentic from Umag, you can buy the authentic earrings from Umag which date back to the 8th century. The original earrings were made of bronze, but a local goldsmith made a replica of silver.
Marinas in Umag
Umag has only one marina, the ACI Marina Umag. This is one of the best marinas on the Adriatic. It has 475 berths and 40 dry berths. It has a reception desk with an exchange office, nautical equipment store, toilet facilities, a maintenance and repair shop, a gas station, WLAN and many more.
How to get to Umag
Due to its position, Umag is called the "Croatian door to Europe". It can easily be reached by car, bus, boat or plane. Buses to Umag are available from all major cities in Croatia; there is also a bus connection from Trieste which is 40 km from Umag. There is also a boat line from Venice to Umag. Umag does not have its airport, but the closest one is in Pula which is 80 km from Umag.