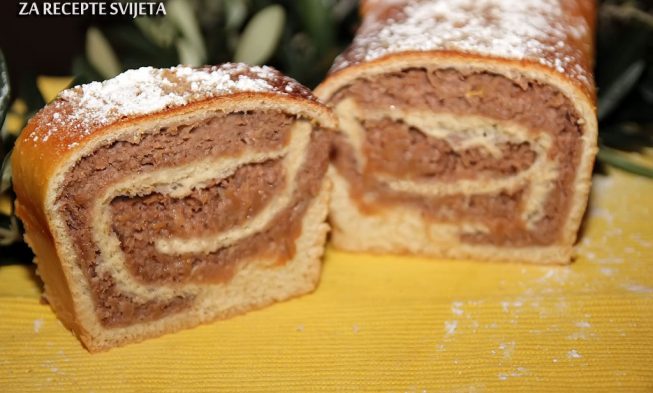 Recipe Orahnjaca – Walnut Roll
Orahnjaca is a traditional Croatian sweet dish made from dough filled with ground walnuts. This dessert is traditionally made for holidays like Christmas, Easter, weddings and other festive occasions. From the same dough you can also make some other delicious dishes – instead of ground walnuts you can put cheese, poppy seeds or carob.
Ingredients: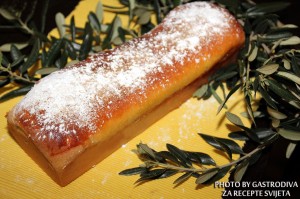 For yeast:
20 g of fresh yeast
10 g sugar
50 ml of milk
30 g of wheat flour
For the dough:
350 g of wheat flour
50 g butter
30 g sugar
2 egg yolks
1 egg
200-300 ml of milk
1 tablespoon of cream
grated lemon peel
rum
salt
For the filling:
400 g of ground walnuts
150 g of sugar
100 g of raisins
200 ml milk
2 tablespoons of flower honey
grated lemon peel
Cinnamon
1 vanilla sugar flour
For the coating:
For sprinkling:
How to cook:
1. Dissolve sugar with couple of spoons of warm water, add flour, milk and crumbled yeast. Cover the pot and leave the dough in a warm place to rise.
2. In a warm bowl, combine flour, salt, add egg yolks and egg diluted with milk, melted butter, grated lemon peel, cream, rum and yeast. Whisk together by hand or using an electric mixer until bubbles appear.
3. Place the dough into a larger bowl, which you previously coated with flour than cover it with a clean kitchen towel and leave it to rise until the size doubles.
4. In the meantime prepare the filling. Pour boiled water over the ground walnuts, wash the raisins and soak them in rum. Mix the walnuts and raisins, sugar, cinnamon and grated lemon peel and mix well to combine.
5. Divide the dough in half than roll each piece out (quite thin) on a lightly floured board to the size of a baking pan. Now spread the filling equally over the dough than roll all together.
6. Rolled dough place in a greased baking pan, cover it again with a clean kitchen towel and leave it to rise a bit more (15-30 min).
7. Bake at 160 °C (325 °F) for approximately 55 minutes until it catches a beautiful golden colour.
5 minutes before you remove the rolls from the oven coat them with beaten egg, than bake for 5 more minutes. Before you remove the rolls from the pan let them cool slightly.