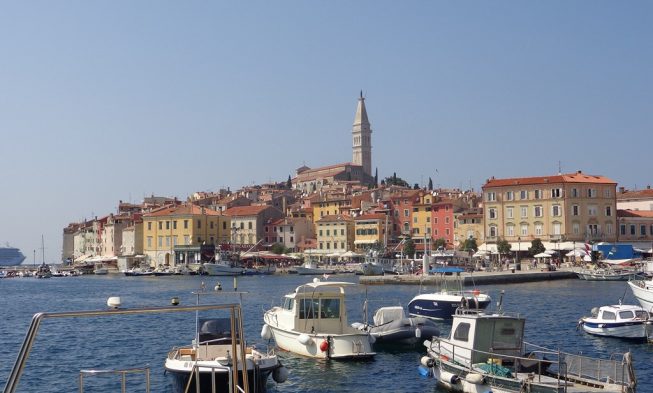 Rovinj is a city on the western coast of Istria and it is together with Porec one of the leading tourist destinations on the Adriatic thanks to its healthy, mediterranean climate. According to research, Rovinj has the best microclimate thanks to which tourism started developing in the 19th century. Today, Rovinj has around 14 000 inhabitants and tourism and industry are the main source of income.
The city of Rovinj was first mentioned as Castrum Rubini in the work "Cosmographia" from which it was concluded that Rovinj was built between the 3rd and the 5th century. The Old City is situated on a peninsula which was till 1763 actually an island. Since the space on the island was limited, the historical centre has a unique construction style; narrow streets, narrow houses and small squares.
Table of content:
Beaches in Rovinj
Rovinj, as well as the Rovinj Archipelago which has 22 islands and islets, is a place with a beautiful coastline, clean sea and an abundance of protected green areas. The coast of Rovinj is predominantly rocky. One of the most visited beaches is in Lone Bay which is a 15 minute walk from the centre. The beach is ideal for families with kids beacuse gravel has been brought to the beach.
A detailed description of beaches in Rovinj can be seen here.

Accommodation in Rovinj
As a leading tourist destination, Rovinj has all types of accommodation, from hotels, hostels, camps, tourist resorts and apartments, rooms and studios in private accommodation.
Tourism in Rovinj officially started in 1888 when the Climate Resort Maria Theresa Seehospitz was open. People and children came here from Germany, Austro-Hungary and other countries for rehabilitation.
There are about 10 hotels in Rovinj; in 2009 Rovinj got its first 5-star hotel, Monte Mulini. Other hotels that can be singled out is the Istria Hotel with a prestigious wellness centre, Park Hotel and Adriatic Hotel.
Rovinj has several camps but the biggest one is the Valalta Naturist camp which is also among the biggest and the best in Croatia. Its offer includes apartments, mobile homes, bungalows and a marina. Beaches in the camp stretch for 3.5 km. Of additional contents in the camp there is all one could wish for: restaurants, bars, sports facilities and many more.
Camping Amarin is 3 star camp located 4 km north of Rovinj and camp accommodate a total of 2.000 guests. The campsite being part of a renovated tourist holiday complex Amarin resort.
Camping Vestar is 4 star camp located 5 km south east of Rovinj. It is completely renovated and it can accommodate up to 2.100 guests.
Camping Valdaliso is situated 4 km north of Rovinj, on a peninsula. The beaches around the campsite ate pebbly and rocky and this is an ideal place for those who want to have a peaceful vacation. The capacity of the Camping Valadiso is 1.100 people. The camp has 281 pitches, 200 sites and 26 mobile homes.
There are two tourist resorts in Rovinj: Amarin Resort and Villas Rubin, both two-star resorts. The Amarin Resort has 190 apartments with rooms for 4 to 6 people. It has three outdoor pools and its beaches are awarded with the Blue Flag. There is a variety of sports and recreation activities, fun and entertainment possibilities for both children and adults. There are also several restaurants and bars.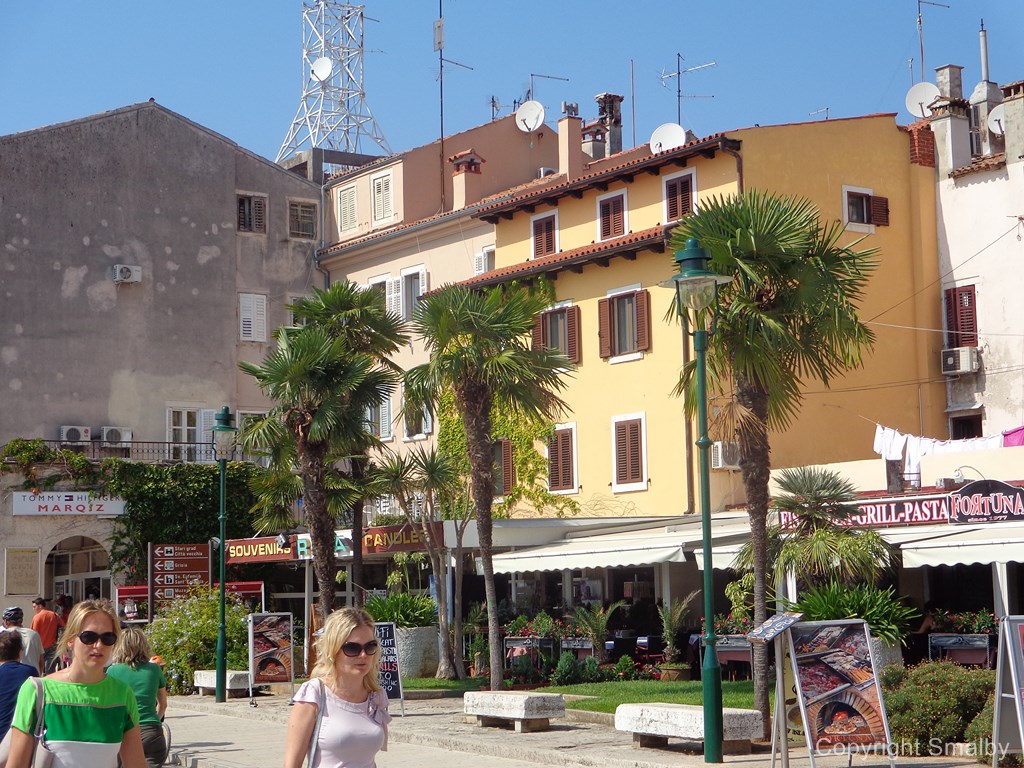 What to see and do in Rovinj
The Old Town is a sight itself, proclaimed a monument of culture and dominated by the church of St. Euphemia, a Venetian baroque building. Three of the seven city gates have been preserved until the present day: the Gate of St. Benedict, the Portica and the Gate of the Holy Cross.
The City Palace was once the Praetorian Palace and its foundations date back to 1308. Its ground floor was a prison while the upper floor were offices.
On the main square of Rovinj there is the Town Clock from the 12th century which also had a prison.
Grisia and Carera are the most representative streets of Rovinj. Grisia can be called the street of art; every year since 1967, the art event takes place on this street. The street is nicely cobbled and has winding stone staircase. At the end of Carera, there is a square where you will find the oldest sacral building in Rovinj: the church of the Holy Trinity.
For history and culture lovers, Rovinj has many museums and galleries. One of them is the Batana House Eco Museum in which you can see the exhibition of traditional Rovinj boats, batanas, which are protected by UNESCO, as well as fishing tools. Batanas are flat-bottomed fishing boats with a traditional way of construction.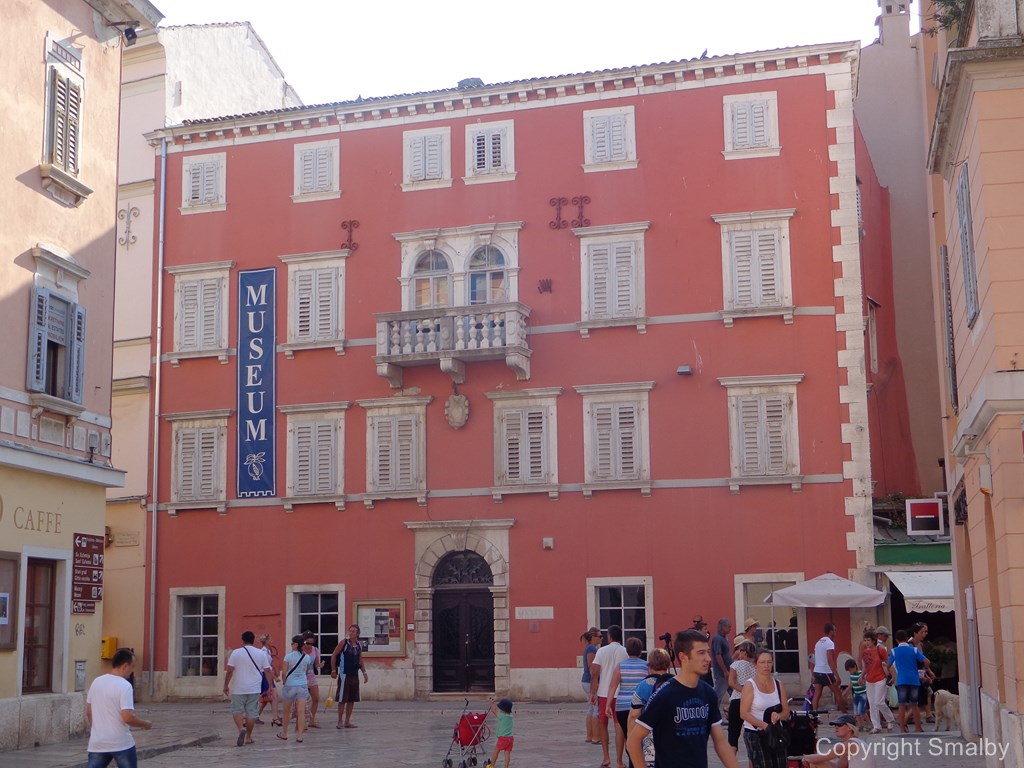 Rovinj also has its Aquarium which was open in 1891 and it is among the oldest institutions of this kind in the world.
There is plenty to see for those who are nature lovers as well. Golden Cape forest park is one of the most famous in Croatia. It was built by the count Georg Huetteroth in the period between 1890 and 1910 and it has many indigenous plant species.
Rovinj islands and the coastal area have been proclaimed a protected area thanks to their uniqueness and natural beauty. The biggest of the islands are St. Andrew and St. Catherine with 456 plant species.
For bird lovers, there is the ornithological reserve Palud with thick forest area and various types of birds.
Active type of holiday
There are plenty possibilities to have an active holiday in Rovinj. First of all, there are 4 marked cycling and walking trails along which there are also many historical, cultural and natural sights.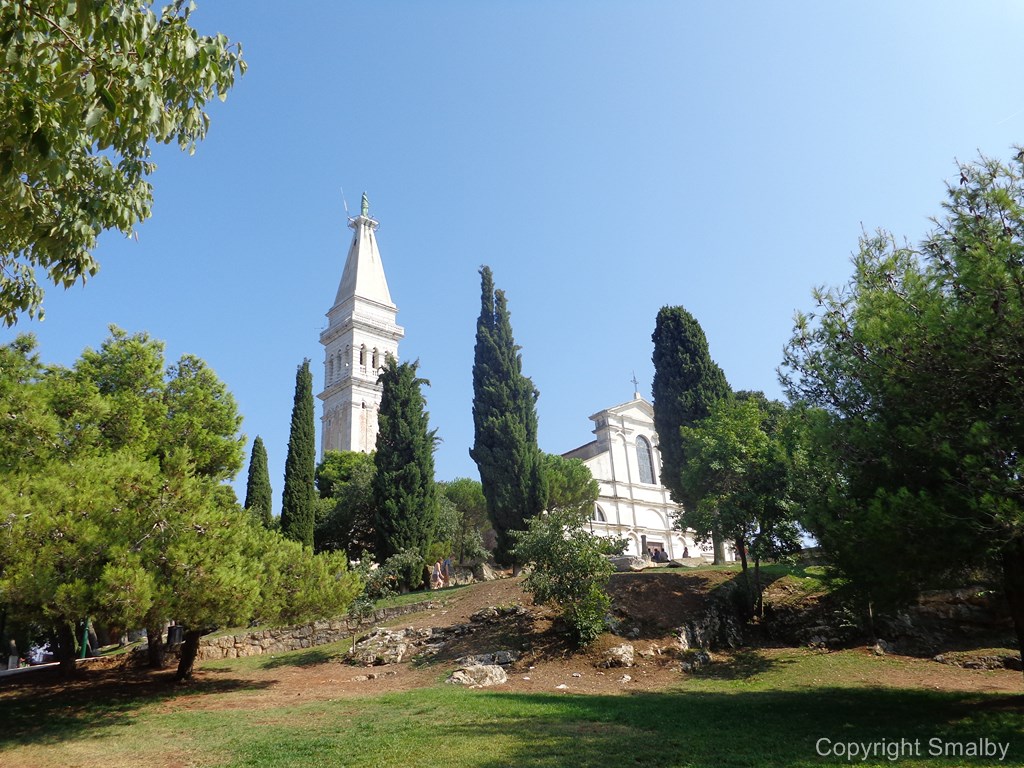 Free climbing is becoming more and more popular. The most famous free climbing spots are the Golden Cape forest park and Limska Draga.
Sea kayaking around Rovinj and Rovinj islands is also very interesting as well as horseback riding which is possible at the Farm Haber and Ranch Moncerlongo.
Day trips from Rovinj
There are numerous trips you can take from Rovinj. Some of them are to the National Park Brijuni where you can play golf or tennis besides enjoying the beautiful nature and cultural heritage. You can also visit some of the Istrian cities like Pula, Umag, Medulin, Porec… It is also possible to take boat trips to Venice.
Where to eat in Rovinj
In Rovinj restaurants you will have the opportunity to taste the traditional Istrian food and excellent Istrian wines as well as international dishes. The Istrian cuisine is based on home made pasta (fuzi or gnocchi), the famous Istrian truffles, wild animals, asparagus, fresh fish, Istrian prosciutto… Some of the best known Istrian wines are teran and malvazija. In relation to this, there are many wine roads and wineries where you can taste many excellent Istrian wines.
For those who prefer the locally prepared food, the best thing is to visit some of the numerous taverns in Rovinj or agrotourism places where you can enjoy organically produced food like lamb, soups, pasta, sheep's cheese…
Nightlife in Rovinj
With its beautiful architecture, Rovinj is perfect for a romantic night out. You can take a walk in the old town and along the seaside and have a drink in some of the bars. Very often, during summer, many concerts are organized in the Old Town, for example the Night of St. Lawrence when several concerts take place on different spots in the centre. What is particular about this night is that it is organized on a night when shooting stars are most visible and instead of street lighting which goes off, torches are lit all over the centre.
The most known place for a night out in Rovinj is Monvi which is actually a 20 minute walk from Rovinj. This is an entertainment centre with many bars, cocktail bars, a pizza place and a disco where everyone will find something for themselves.
Marinas in Rovinj
Rovinj has two nautical ports:
ACI Marina Rovinj which is open all year round, has 386 berths, electricity and water hook-ups, a parking, a restaurant, a caffe bar, a grocery store…
Anchorage Saline
Shopping in Rovinj
Larger shopping centers can be found outside Rovinj: Lidl, Konzum, Plodine – large grocery stores, Mercator – a shopping mall.  The main shooping street in Rovinj is Carrera; here you can find different kinds of stores like souvenir shops, clothes and shoes shops, pharmacies, stationary store...read more about shopping Rovinj here
How to get to Rovinj
Rovinj can be reached by the recently completed Istrian highway, called the Istrian Y; the highway exit for Rovinj is Putini-Rovinj. During summer, there can be bigger traffic jams on the highway. If you want to go by plane, you will have to go to Pula which is the closest airport, and then take a bus to Rovinj. Rovinj can also be reached by bus from many cities.