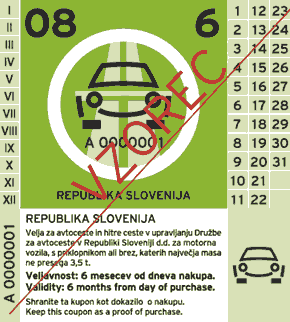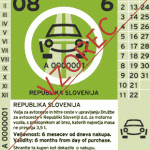 NEW (30.06.11) – The Slovenians apparently have decided (Maybe do to the harsh criticism) also to offer a monthly vignette, the structure of the new vignette system which will be implemented by the 1 of July 2009 looks the following
Motorcycles – available vignette – weekly(7.5 Euro), half yearly (25 Euro) and yearly(47.50Euro )
Cars and cars with e.g. camping wagon (Less than 3.500 kg) – available vignette – weekly(15 Euro), monthly (30 Euro) and yearly (95 Euro)

Total road cost / maut for a trip e.g. from Germany to Split (3 weeks stay) is 2 * 10 day vignette for Austria 7.70 Euro (15.40 Euro) + a one month vignette for Slovenia 30 Euro  + 2 times highway fee Slovenia Border to Spilt 162 Kn (45 Euro) so in total cost will be around 91 Euro.
If you go route Salzburg – Ljubljana you will have additional cost for the  Tauern tunnel (9.50 Euro) and the Karawanken tunnel (6.50 Euro) in total 32 Euro both ways
For a 1 week trip the price to Split is – 68 Euro. (100  Euro including the tunnels)
Austrian and Slovenian Vignette can be bought on petrol stations and kiosks close to the border, the maut / road fees in Croatia are payed when you exit highway, all major credit cards and Euro's are accepted.
All or parts of the highway fees basically can be avoided by traveling on normal country road, but this can only be recommend in low seaseon or to anybody who has  plenty of time for the trip.
NEW: Here you can see road prices on the Croatian Highway
Here you find other usefull stuff, relevant for your holiday budget
Prices in Croatia, Ferry prices in Croatia
Fines for driving without Vignette:
If you should get stopped on the Slovenian Motorway without a Valid Vignette, you will get a fine between 300 and 800 Euro. (According to Official Gazette no. 33/06)