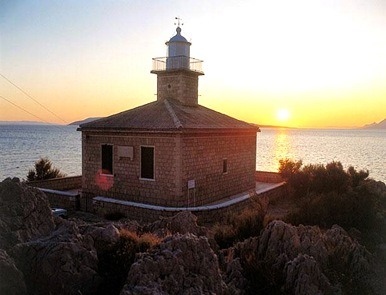 In early 19th century, Austro-Hungary was aware of the specifics of Adriatic coast, so they took a strategic decision and started building a network of lighthouses. Some years ago somebody came up with the idea to use the lighthouses for Robinson tourism, so a number of light houses were rearranged so they could house a few tourists during the summer season.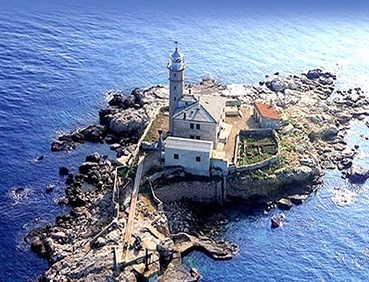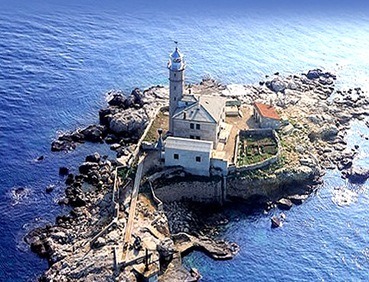 Most of the lighthouses are situation at Remote Islands, more or less isolated from modern days civilization, so this is really a place for an relaxing holiday in natural sea environment, here you can definitely enjoy undisturbed swimming, diving and fishing.
The stay at some of the lighthouses requires that you bring your own food or fish and enjoy tourism in isolation. Some of them are located near larger tourist centers, so the supplies are quite easy to come by. All of them have cold and hot water (At the solar powered power lighthouse, several days without sun can result in a shortage of hot water), and run their own water tank systems and the liquid waste is discharged according to the highest ecological standards.
All Lighthouses have 220 volt electricity. Some of them are connected to the power grid, at these lighthouse there are no restrictions in the use of electricity, some of them have their own electrical networks powered by solar panels and transformers, at these lighthouse, there are some restriction in terms of usage of electrical devices, especially devices consuming lots of power like e.g. hairdryers cannot be used. Battery chargers, laptops and similar devices can be used.
The most popular lighthouses adapted for touristic purposes are:
Sv. Ivan na pucini – situated 3.5 km from Rovinj with capacity of 1/4+1/4 apartments/people, 2 apartments; lighthouse keeper
Porer – situated on island of Porer, 20 km from Pula with capacity of 1/4+1/4 apartments/people, 2 apartments; lighthouse keeper
Veli Rat – situated on Dugi otok, 20 NM from Zadar with capacity of 1/3 +1/4 apartments/people, 2 apartments; lighthouse keeper
Prisnjak – situated on island of Murter, 300 m from Murter with capacity of /4 apartments/people, 1 apartment; no lighthouse keeper
Susac – situated on island of Susac, 23 NM south of Hvar and 13 NM west of Lastova with capacity of 1/4+1/4 apartments/people, 2 apartments; lighthouse keeper
Struga – situated on island of Lastovo, 55 NM from Split and 55 NM from Dubrovnik with capacity of 1/2+1/3+1/4+1/5 apartments/people, 4 apartments, lighthouse keeper
Sv. Petar – situated 800 m from Makarska, 85 km from Split airport with capacity of 1/5 apartments/people, 1 apartment; no lighthouse keeper
Plocica – situated on island Plocica 7, 5 km from Prigradica (4 NM), 20 km from Vela Luka with capacity of 1/6 + 1/8 apartments/people, 2 apartments; no lighthouse keeper
Palagruža – situated on island of Palagruža 68 NM from Split with capacity of 1/4+1/4 apartments/people, 2 apartments, lighthouse keeper
Rt Zub – situated 13 km from Porec, 13 km from Novigrad with capacity of 1/6 apartment/people, 1 apartment, no lighthouse keeper
Savudrija – situated 9 km from Umag with capacity of 1/4 apartment/people, 1 apartment, lighthouse keeper
So if you up for a Robinson stile holiday, you should maybe consider making holiday on in a Croatian lighthouse, for sure this will be a change to really escape from the modern civilization