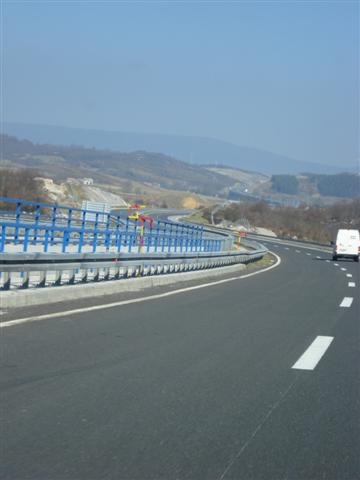 Toll cost Croatian Motorway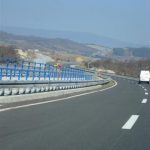 During the last decade, Croatia has been in process of building new motorways trough out the country, except  for the last 135 km from Vrgorac (Ploće) to Dubrovnik, the main parts of the motorways is now finished.
A1 Zagreb – Dubrovnik
The Motorway A1 is also called Europe's most beautiful highway, once you have driven it I am sure you will agree to this.
Currently a total of 456 km between Zagreb and Ploče (Vrgorac), has been finished, from the last exit there Is about 30 km to Ploče and about 110 km to Dubrovnik.
Toll fees apply on the Croatian motorway e.g. is the price from Zagreb to Zadar 105 kn, Zagreb – Split 157 kn and Zagreb to the current end point Ravča – 187 kn.
INSIDER TIP: if you should get hungry driving on A1, I recommend you to stop by the restaurant Macola which is situated about 200 km from Zagreb.
A1/A6 Zagreb – Rijeka
The 140 km long motorway between Zagreb and Rijeka was finalized at the end of 2008, tool fee for the 140 km motorway is 60 kn.
Below you can find detail information about toll cost and exit point on the Croatian Motorway
Vehicle Categories and Toll Prices
I A Motor vehicles with the properties of motorcycles, also include three-wheeled and four-wheeled motorcycles.
I Motor vehicles with two axles up to the 1.30 m measured at first axle except for motor vehicles from II b) category. – (Category for any normal car).
II a) Motor vehicles with three or more axles up to 1.30 m measured at first axle,
b) Motor vehicles with two axles greater than 1.90 m, and the maximum permissible weight does not exceed 3,500 kg. (Category for cars with Caravan).
III Motor vehicles with two or three axles, with the height above 1.30 m measured at first axle with the maximum permissible weight over 3,500 kg and motors vehicles listed under II b) with trailers.
IV Motor vehicles with four or more axles with the height greater than 1.30 m measured at first axle with the maximum permissible weight of over 3,500 kg.
Toll fees in Istria:
Toll payment Options:
On the Croatian Highway all major credit cards as well as Kuna are accepted, also payment with foreign currencies are possible, but please note that any return will be done in Kuna. – watch this video!
Information about the Motorway/freeway access/ exit points
Below you can find see which freeway exit point is the most suitable for your holiday destination and browse our price table to see which toll you have to pay. Easy way to search is to use CRTL + F
A1 Zagreb: After exiting motorway A1 in Zagreb, there is option to continue on the motorway A3 to Ljubljana, motorway A5 to Osijek, Motorway A2 to Varaždin and Motorway A4 to Goričan of course you can also continue to Zagreb centre which is about 8 km from the Zagreb exit point.
A1 Dermeje: IMPORTANT In June 2009 a new exit point open in Demerje – which is 3 km before the Zagreb exit, when you come from south, this exit point only accept payment by credit cards or electronic toll – ENC. As most Croatians are not paying with Credit card, you can avoid staying in line if you take this exit, and pay with your credit card.
A1 Jastrebarsko:
A1 Karlovac: The Karlovac exit point, is the exit point to use if you are heading for Plitvice lakes coming from Zagreb.
A1 Bosiljevo:
A1 Ogulin: This exit could be used for going to Novi Vinodolski, but this Is not the most comfortable way to get there!
A1 Brinje:
A1 Žuta Lokva: This exit can be recommended if you are going to Senj, Novi Vinodolsk, Island Rab and Island Pag (Novalja and Pag city). You could even use this exit point to get to Rijeka (from south), it will take about same time as going on the motorway, and you will avoid Toll on the motorway.
A1 Otočac: From this exit you have the shortest distance to the National park Sjeverni Velebit.
A1 Perušić:
A1 Gospić: This exit has the shortest connection to Karlobag, and the ferry to Pag city, also from here you can access to D25 which connects to D1 in Korenice (road to Plitvice Lakes).
A1 Gornja Ploča: this exit can be recommended if you come from south and are heading for National Park Plitvice.
A1 Sveti Rok: exit to Gračac and knin (when you come from north). In fall and winter you can experience that the motorway is closed around Sveti Rok do to the Bora wind, in that case you will have to exit the motorway here, and pass the mountain on the old road, which is a bit of an adventure.
A1: Maslenica Is the closest exit to Starigrad and to the National Park Paklenica, (exit point from the south in case of motorway closure to do Bora wind.)
A1 Posedarje: Exit point for the Paški most bridge to Island of Pag.
A1 Zadar zapad / west: Exit Point to Zadar, Petrčane, Nin, Zaton and Vir
A1 Zadar istok / east: Exit point to Zadar, Zemunik (Zadar Airport), Bibinje and Sukošan
A1 Benkovac: Exit point to Biograd na moru, Turanj, Pakoštane.
A1 Pirovac: Exit point for Murter is also recommendable for Pakoštane if you come from south and for Vodice if you are coming from north.
A1 Skradin: Exit point for Skradin and lower parts of National Park Krka.
A1 Šibenik: Exit point for Šibenik, Primošten, Rogoznica, Marina if you come from North and exit point to Vodice and upper part of National park Krka when you come from South.
A1 Vrpolje:
A1 Prgomet: Exit point for Trogir, Seget Vranjica, Marina, Island Cievo and Kaštela.
A1 Vučevica: Very little useful exit point.
A1 Dugopolje: Exit point Split, Podstrana, Sinj Islands Brac, Hvar Vis, Omis, and Kaštela.
A1 Bisko:
A1 Blato na cetini: Exit point to Omis, Dugi Rat, Lokva Rogoznica
A1 Šestanovac: Exit point to Mimice, Pisak, Brela, Makarska and Tućepi when you come from North.
A1 Zagvozd:
A1 Ravča: Exit point to Makarska (South); Tućepi, Podgora, Igrane, Zaostrog and Ploće, be aware that the road from Ravča to Ploće is a bit adventures and can be challenging if you are travelling with a caravan.
A6 Vrbovsko:
A6 Ravna Gora:
A6 Delnice: Exit point to one of Croatia's unknown treasures, the National park Risnjak
A6 Vrata: Exit point to Island Krk, Crikvenica
A6 Oštrovica:
A6 Rijeka (Kun): Ending point of A6 from here you can easily connect to the Istrian Y, which is the easiest way to get to cities like, Umag, Novigrad, Rovinj, Vrsar, Porec and Pula when you come from Zagreb or Split.
Road assistance:
If you should be in need of road assistance, you can reach the Croatian road assistance under +385 1 987, on there homepage www.hak.hr you also find information about the Croatia roads in general.
HAK has a information number, which give you general traffic information, the number is + 385 1 4640 800, press 3 to get information on English.
Solitum d.o.o Vacation house rental